It's pumpkin season, and if you're like most people, you probably opened a can of pumpkin puree and have some leftover that you don't know what to do with. Or you just have an overstock of pumpkin in general.
How to Make your own Pumpkin Puree
Heat oven to 400 degrees and line a baking sheet with parchment paper
Rinse pumpkin and pat dry. Cut from end to end minus the stem. Once the pumpkin is cut through, pull each half apart.
Scoop the seeds out and most of the stringy flesh.
sprinkle both halves with salt and place cut side down onto the baking sheet.
Bake about 45-60 minutes, until the pumpkin is fork tender
cool for about 20 minutes before scooping the flesh out of the skin and into a food processor. Process until smooth
Whether you have the canned stuff or your own pumpkins, you can do a lot with them!
Idea #1. Freeze into ice cube trays for smoothies and other future recipes 
This is perfect for using at your own convenience! No pressure to use it right away, it will stay good in the freezer indefinitely. You can do this with other leftovers (pesto, crushed garlic, etc). Frozen, you can toss them straight into the blender with your other smoothie ingredients (or make the pumpkin spice latte protein shake). Or defrost and use for soups, chili, and other recipes that call for pumpkin.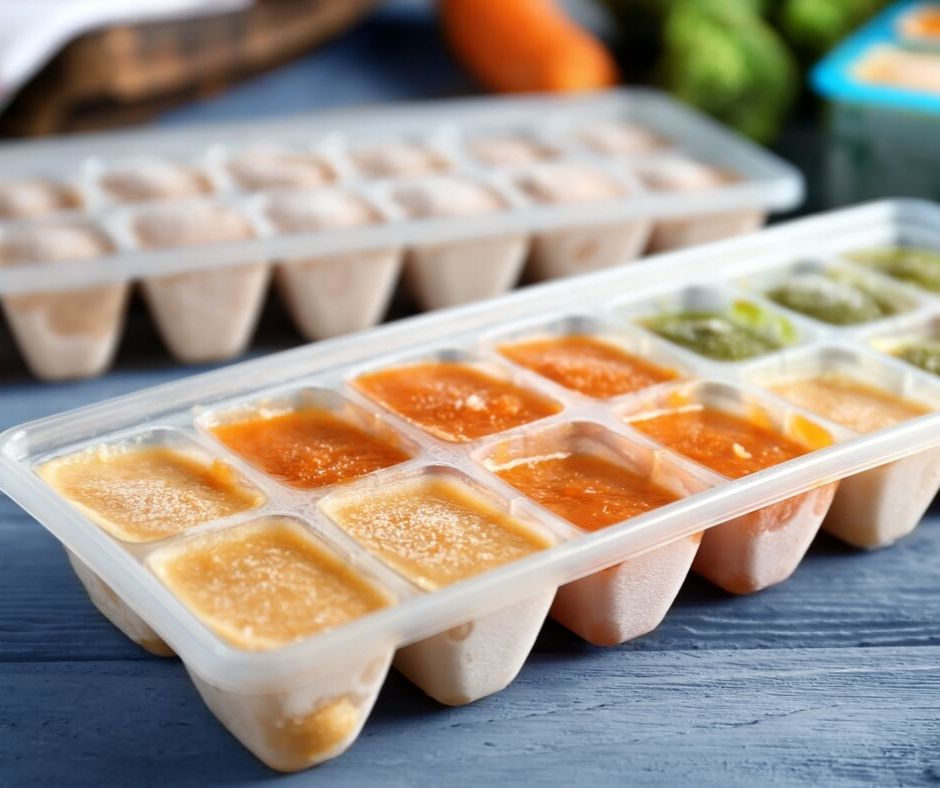 Idea #2. Add to your favorite pancake recipe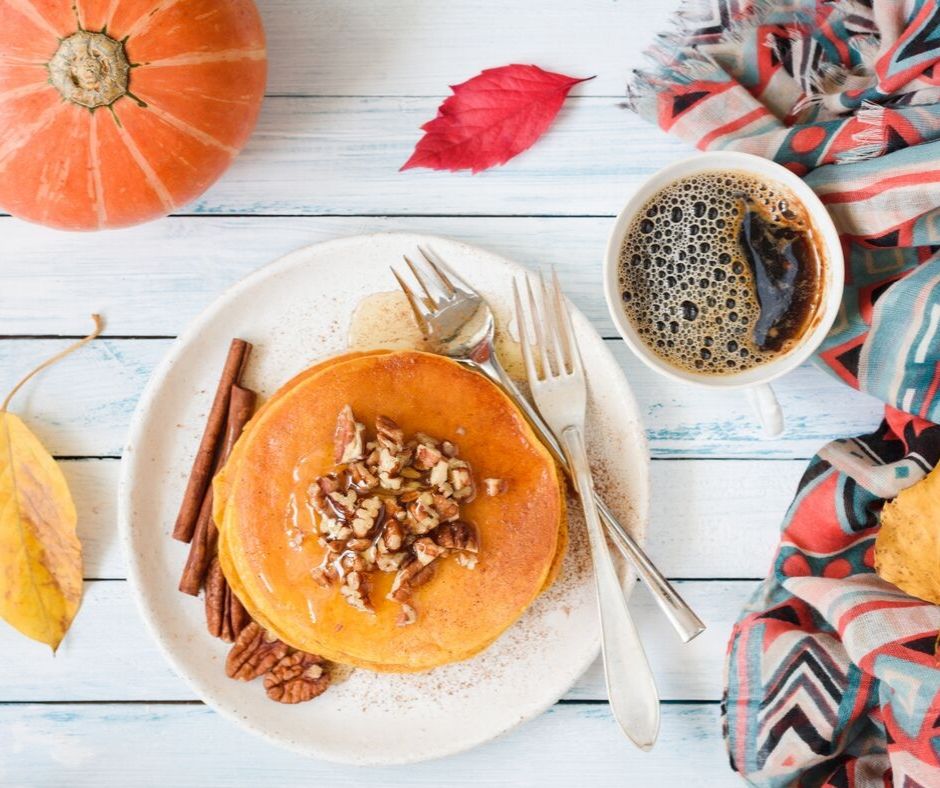 You can add 1/4 cup of pumpkin puree to your favorite pancake batter and a dash of cinnamon and pumpkin pie spice to make pumpkin spice pancakes! A perfect morning treat for fall. Or follow this recipe for gluten free pumpkin pancakes:
1 cup rolled oats
1/2 cup pumpkin puree
1 egg
1/2 cup milk of choice (add more if too thick)
1 tsp baking powder
1 tsp cinnamon + 1 tsp pumpkin pie spice
optional: 1 scoop vanilla protein powder
Directions:
blend all ingredients in a blender.
Heat skillet over medium heat &coat pan with butter or coconut oil
pour batter onto pan in desired pancake size, cook for 2 minutes on one side, flip when starts to puff up on edges, and cook on the other side until each side is golden brown.
Idea #3. Make homemade dog food for your furry friend
Pumpkin is packed with a ton of vitamins and nutrients for your pup! It contains....
vitamin A to maintain eye health and prevent night blindness
fiber to relieve constipation and regulate bowel movements
high amounts of cucurbitacin, a biochemical compound that can kill of gastrointestinal parasites.
Add about 1 tbsp per 20lb of body weight to your dogs food to reap the. benefits! Or use this recipe for homemade dog food:
1lb organic ground turkey
2 cups cooked brown rice
1-2 tbp pumpkin puree
shredded zucchini/carrot
omega 3 supplement
Brown the turkey in a skillet, add cooked brown rice, pumpkin, and veggies. Mix in omega 3!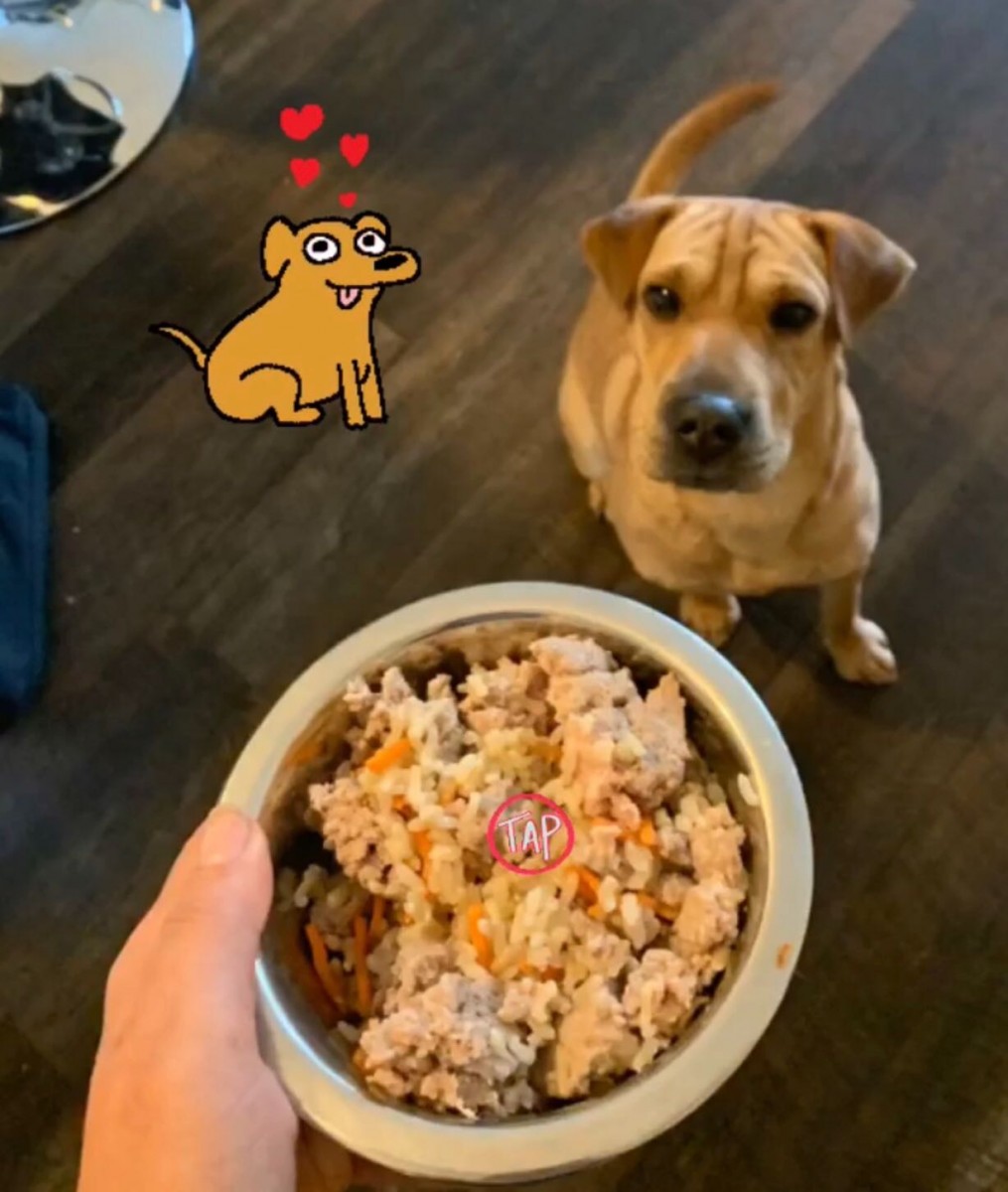 Idea #4. Make a pumpkin face mask for glowing skin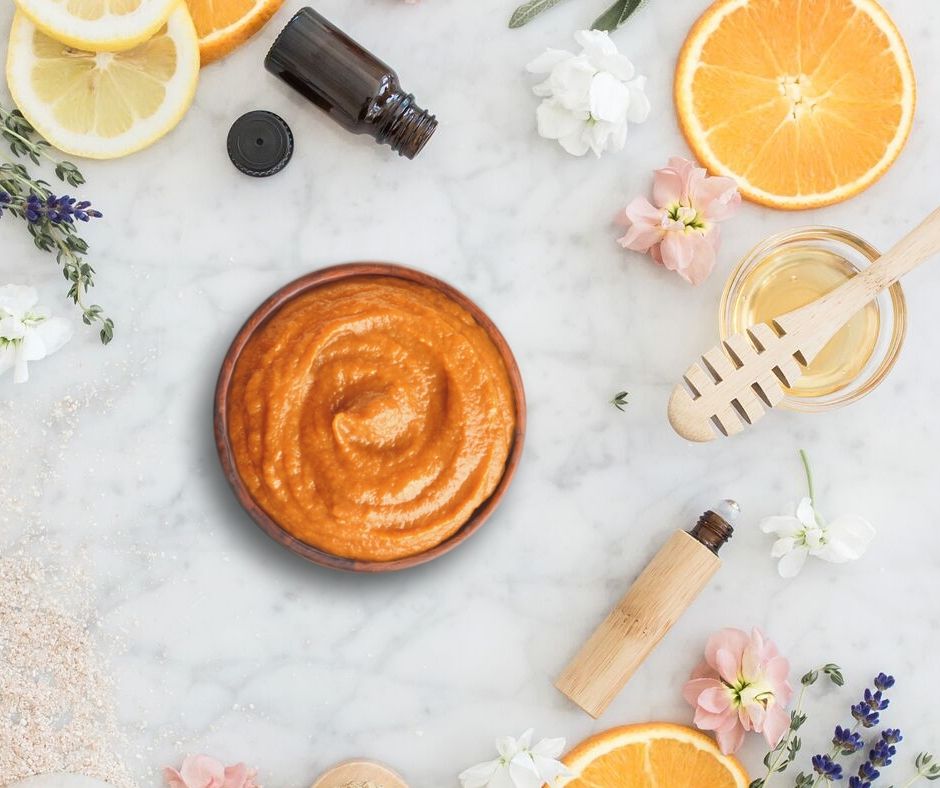 This face mask is only 3 ingredients, honey: a natural antibacterial that cleanses, evens skin tone, and prevents aging. Pumpkin puree: packed with vitamin A and C which boost collagen production and prevent age lines. Lastly, lemon juice naturally lightens skin and removes dead skin cells revealing a fresh look!
In a bowl, combine:
1 tablespoon pumpkin puree.
1 tablespoon raw honey.
1 teaspoon fresh lemon juice.
Makes about 2-3 uses. Spread evenly on clean face, being cautious of your eyes, and leave on for 15-20 minutes before rinsing off with warm water. Once all the mask is off, splash your face with cold water and pat dry.
Idea #5. Add to your favorite chili
or curry recipe
This is one of the simplest ways to add a little more fall flavor and nutrients to your favorite chili or curry recipes. Plus the pumpkin puree adds creaminess and texture.
Replace some of the liquid component (tomato sauce in chili or coconut milk in curry) with pumpkin puree and keep the rest of the recipe the same.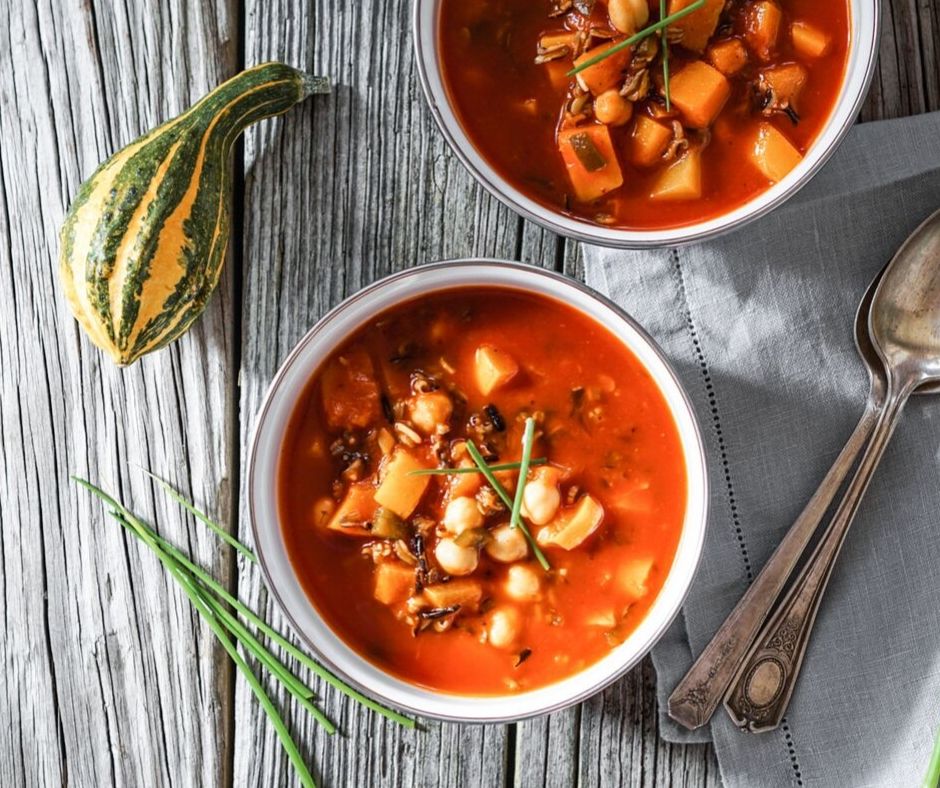 Idea #6. Roast your pumpkin seeds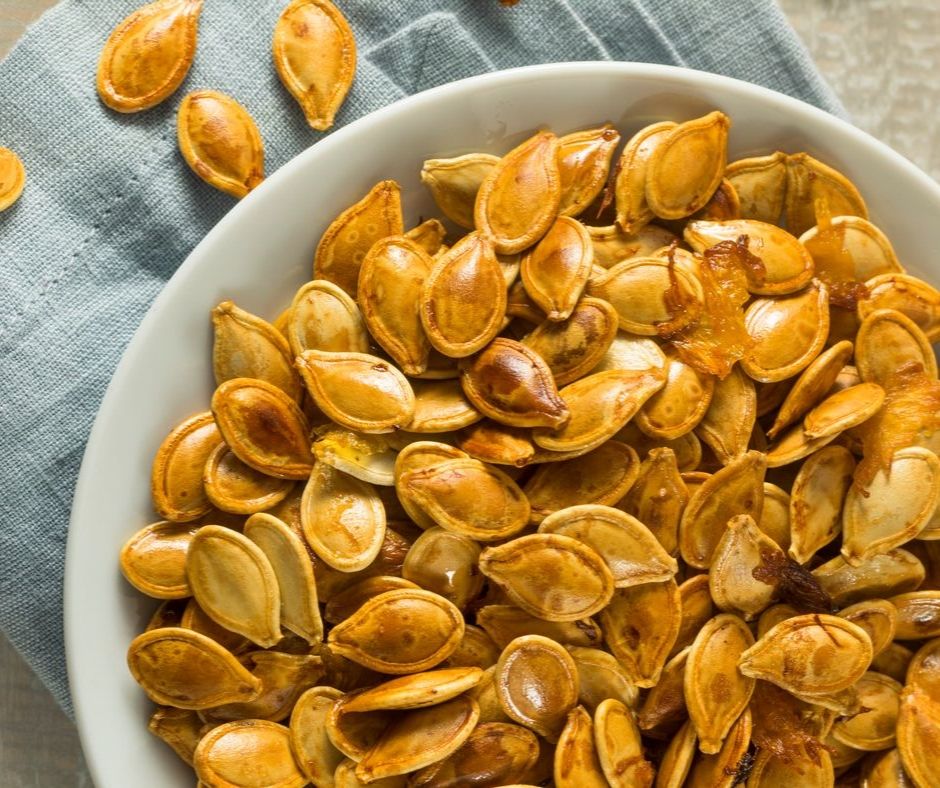 Do not waste the seeds from your pumpkins!! They can be roasted into a delicious protein packed snack and packed with magnesium. You'll need:
1 cup raw pumpkin seeds
1 tbsp olive oil/avocado oil or spray.
1/2 teaspoon kosher salt
1/8 teaspoon black pepper
optional seasonings: garlic, paprika, cinnamon, nutmeg
Preheat oven to 350°F
Wash pumpkin seeds in a colander to remove the pulp. Dry with towel
In a small bowl combine pumpkin seeds, olive oil, and seasonings
Lightly grease a sheet pan with olive oil. Evenly spread the seasoned pumpkin seeds on the sheet pan.
Bake about 15 to 30 minutes, until lightly browned. Stir the pumpkin seeds every 5 minutes for even toasting.