Smoothies are an amazing way to consume superfoods and nutrients that you might not be able to get into your diet otherwise. Why eat kale when you can blend it into a smoothie and not taste it?
Here are our top Superfoods that pack a TON of health benefits: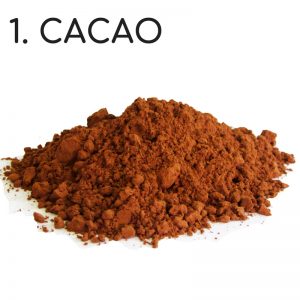 -antioxidants and chocolate flavor! Ever hear "dark chocolate is good for you and fights off cancer" - well, it's actually cacao, unprocessed chocolate, that really has these benefits. Cacao has a rich, deep chocolate flavor which can make your shakes super decadent. Blend 2-4 tbsp with your favorite chocolatey smoothie and enjoy! Use in place of cocoa powder.

-Used for centuries as a healing food, goji berries are packed with antioxidants. They are believed  to help eye health, fight viruses, balance hormones, and aid in longevity. Add 1/2 cup goji berries to a smoothie to get these benefits

-Fiber and fatty acids. The fiber in flax seeds is especially helpful for moving things along when you're backed up. The fatty acids benefit your brain, skin, joints, and more! Add 1-2 tbsp of whole or ground flax seeds.

-What is spiralina? It's an algae, meaning it does not taste the greatest, so therefore perfect for blending into a delicious smoothie with other flavors that will mask the taste. Why would you want to add spiralina? There are too many health benefits! 1/2 to 1 tsp of spiralina is all you need

Think omega 3s and fiber. The fiber in these seeds keeps you full and helps lower cholesterol. and has no taste meaning no adverse effect on taste. Use a little extra liquid.

rich in fiber and antioxidants, and vitamin c. This sugar free fruit is excellent for the immune system, blood circulation, and relieving bowel problems. It tastes like a less sweet blackberry, and because it is not sweet it is best blended with sweeter fruits like berries or banana. You can buy in frozen puree packets or powder form to super charge your smoothies or make a homemade acai smoothie bowl!

-Collagen powder is a nearly tasteless superfood supplement that conveniently and easily adds tons of benefits to your shake. Collagen is important for healthy skin, joints, bones, cartilage, would healing, and immune and gut health, among other things. Just a scoop of collagen powder or collagen peptides in ANY smoothie a few times a week will give you intense health benefits all over your body.

Matcha is finely ground up green tea leaves, and is a potent energy source. Instead of giving you jittery energy followed by a crash that can sometimes be caused by coffee, the caffeine in green tea combines with calming L-theanine to give you more happy, focused energy. Perfect for when you're staring down a long afternoon of work! If you like iced green tea "lattes", add 1-2 tsp of matcha to a vanilla protein shake! Add ice for more of a "frapuccino" style.

in a smoothie? YES! Avocados have a super versatile taste and creamy texture making them ideal to throw into smoothies. These green guys contain tons of all healthy fats to keep you full and improve your skin glow. They also contain magnesium which eases cramps.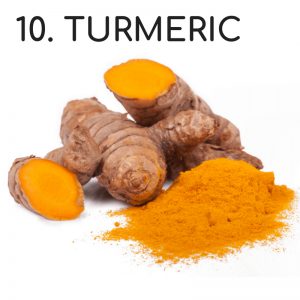 Frequently used as a spice in India, turmeric is widely known for its intense flavor. It is also notorious for having extreme anti-inflammatory benefits. Perfect for arthritis or joint pain, turmeric can be thrown into your daily protein shake or smoothie to help decrease inflammation and fight pain. Also great for post-workout muscle soreness. Add 1 tsp to your favorite shake.
6 Shakes With Massive Health Benefits
Skin Health:
For redness, rosacea, acne, dry skin, etc.
-1/2 cup canned pumpkin puree
-1/2 cup unsweetened almond milk
-1 scoop NM Vanilla
-1/4 avocado
-2-3 tbsp shelled pumpkin seeds
-1/2 tsp cinnamon
-ice cubes and stevia
Joint pain:
For joint pain due to muscle soreness, exercise, arthritis, etc.
-1/2 cup pineapple
-handful fresh parsley
-1 tsp turmeric
-1 scoop NM Vanilla
-1/4 inch piece of ginger
-1 scoop collagen peptides
-1 cup unsweetened almond milk
Constipation:
-1 scoop NM cleanse
-1 scoop NM Vanilla
-1 cup milk
-1 tbsp flax
-2 tbsp aloe vera juice
-1/2 cup mango
-1/2 cup blueberries
Cramps:
...ladies?
-1 banana, frozen or fresh
-1 scoop NM Vanilla
-1 tbsp sunflower seed butter
-2 tbsp rolled oats
-handful of spinach
-1 cup unsweetened almond or cashew milk
Energy Booster:
-1 cup unsweetened almond milk
-2 dates, pitted
-2 tsp maca powder
-1 scoop NM Vanilla or Chocolate Protein
-1 tbsp almond butter
-1 tbsp cacao nibs
Energy Boosting Matcha Shake:
-1 cup unsweetened almond milk
-1-2 tsp matcha (depending on how strong you like it)
-1 scoop NM Vanilla
-1 cup spinach or kale
-stevia to taste
-handful of ice