Perfect For When Your Diet Gets a Little Dirty... $38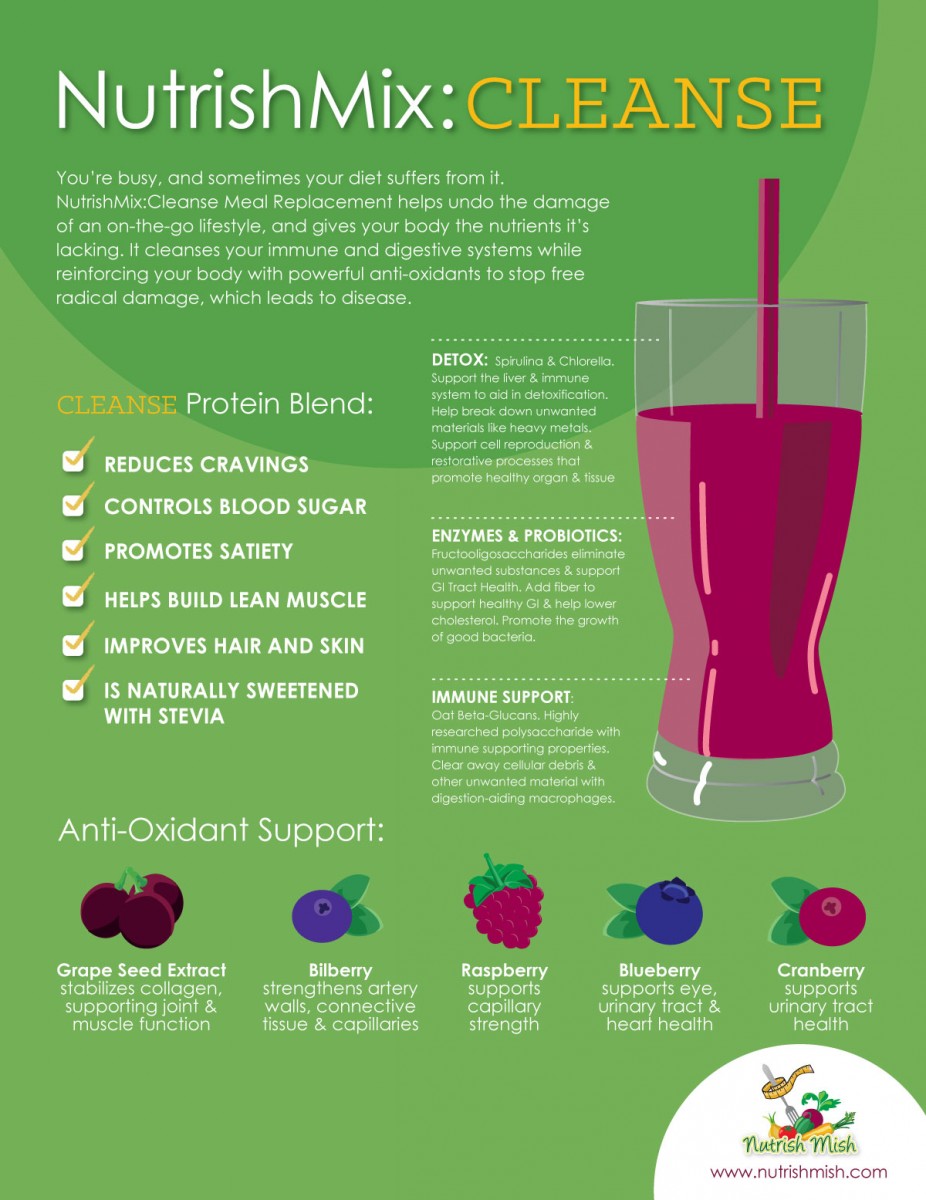 You're busy, and sometimes your diet suffers from it. NutrishMix:Cleanse Meal Replacement helps undo the damage of an on-the-go lifestyle, and gives your body the nutrients it's lacking. It cleanses your immune and digestive systems while reinforcing your body with powerful anti-oxidants to stop free radical damage, which leads to disease.
Use with your NutrishMish Protein Powder to create a meal replacement designed for exactly what you need today!
Supplement Facts
Servings Per Container: 30
Calories: 50
Calories from Fat: 10
Carbohydrates: 2g
Fiber: 4g
Protein: 2g
Vitamin A: 927 IU
Vitamin C: 40 mg
Iron: 2.1 mg
Sodium 35mg
Contains Sunflower Lecithin Powder, Spirulina, Barley Grass Powder, Carrot Powder, Chlorella-Cracked Cell Powder, Wheat Grass Powder, Alfalfa Herb Powder, Beet Juice Powder, Cauliflower Powder, Flax Seed Meal, Parsley Juice Powder, Spinach Leaf Powder, Broccoli Powder, Horsetail Rush, Oat Beta Glucan, Rosemary Leaf Powder, Eleutherococcus Senticosus Root Powder, Aloe Vera, Licorice Root Powder, Soluble Fiber, Red Raspberry Powder, Apple Pectin, Acerola Berry Juice Powder, Rose Hips, Citrus Bioflavonoids, Blueberry Powder, Cranberry Juice Powder, Digestive Blend (Bromelain, Papain), FOS, Red Grape Seed Extract, Non-Dairy Probiotic Culture, Royal Jelly Powder, Bee Pollen Powder, Bilberry Fruit Extract, Milk Thistle, N,N-Dimethylglycine, Grape Seed Extract, Green Tea Extract, Stevia Leaf Extract