The first Sunday of February is coming ,which means SUPER BOWL SUNDAY!!
Super bowl has a little something for everyone: sports, entertainment, and, of course, food! If you are on a diet, the thought of wings and beer can trigger some anxiety, BUT, if you are creating a lifestyle change, you know that super bowl (and parties in general) are a part of life, and it's totally fine to indulge during an event like this. Keep in mind, one day out of seven is not the majority of the week, so as long as you are back to your normal healthy self on Monday, super bowl will be a happy memory in your head, and not on your hips!
Here are some healthy tips and recipes to navigate the day:
Tips:
Eat a healthy nourishing breakfast the morning of Super bowl Sunday to start the day strong. Breakfast is the most important meal of the day for a lot of reasons, partly because WHAT you have can definitely set you up for success for the rest of the day. Since you know you will be indulging later, make sure to pack the nutrients into breakfast so that you don't have to worry about it later. A protein smoothie or a veggie omelette are a great way to start the day off.

Eat before you go to the party. Keeping yourself satiated throughout thee day will prevent you from being RAVENOUS by time you get to the party, causing you to eat way more than you want to or need to.

Be mindful of how alcohol stacks up Your best bets are spiked seltzers, vodka/club, vodka/club with a splash of ____, or wine spritzers. If you want to go for higher calorie drinks, limit it to one or two and then switch over to a lighter choice.

Stay hydrated! Salty apps, alcohol, recipe for dehydration! Staying hydrated will help keep the bloat at bay and give you something to sip on when you don't feel like munching or drinking alcohol just because.

Hack your Hangover. Drink plenty of water the day of and next day to ward off a potential hangover. Or, take two Weekend Wakeup after drinking and you will wake up feeling a lot better than you deserve to (especially if you are over 30!) It works by combining natural herbs that facilitates liver detox, and prevent hangovers. Take before bed after drinking (with proper hydration) and you will wake up hangover-free on Monday! Grab it here

DO NOT, I repeat DO NOT weigh yourself Monday. Here is why: sodium is like a sponge and super bowl food will be packed with salt. That salt will cause you to temporarily retain water for 24-48 hours after. The best thing to do is drink plenty of water the next day to help flush it out. If you want to speed up the process, you can banish the bloat in one hour with our Bloat Banisher supplement.

Recipes: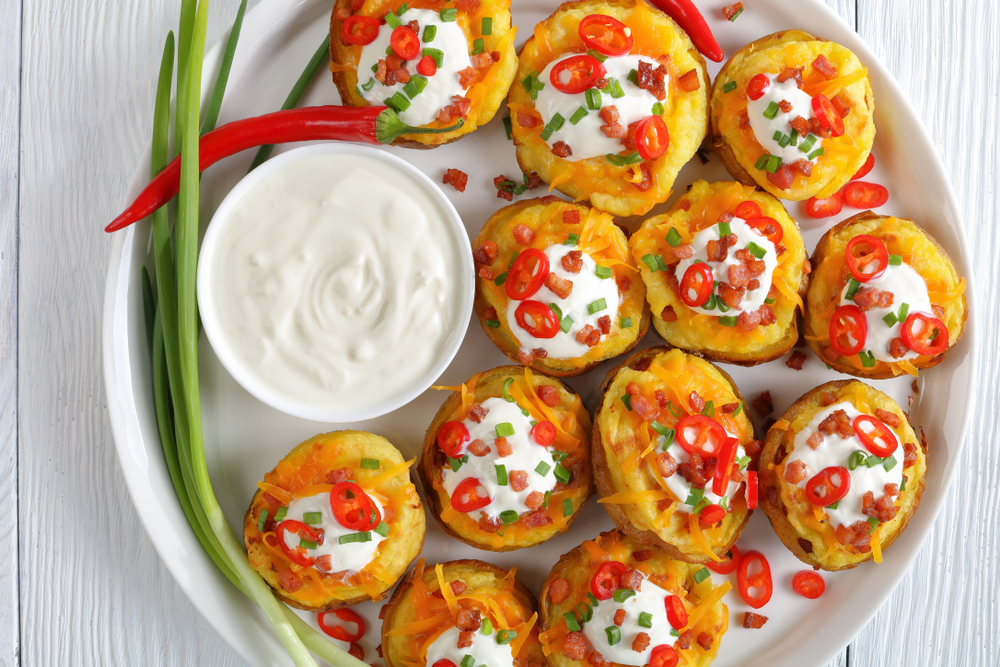 [accordion_item title="Get The Recipe"]
Ingredients:
1 bag mini sweet potatoes
toppings of choice: shredded cheddar, plain greek yogurt, scallions, bacon diced
Directions:
Preheat oven to 450F
Slice sweet potatoes into bite sized rounds, about 1/4 inch thick.
Place the slices in a large bowl, sprinkle with 1 tablespoon avocado oil, 1 teaspoon garlic powder, 1 teaspoon paprika, and 1 teaspoon sea salt. Toss to thoroughly coat.
Place on a baking sheet lined with parchment paper in a single layere. Bake for 10 minutes on one side, then remove from the oven, flip all rounds, and bake another 10 minutes until soft. Can also try these in the air fryer.
Once potatoes are done, top with shredded cheese first so they melt onto sweet potato, then top with additional toppings (bacon bits, green onion, dollop of plain greek yogurt)
[/accordion_item]
Buffalo Cauliflower "Wings"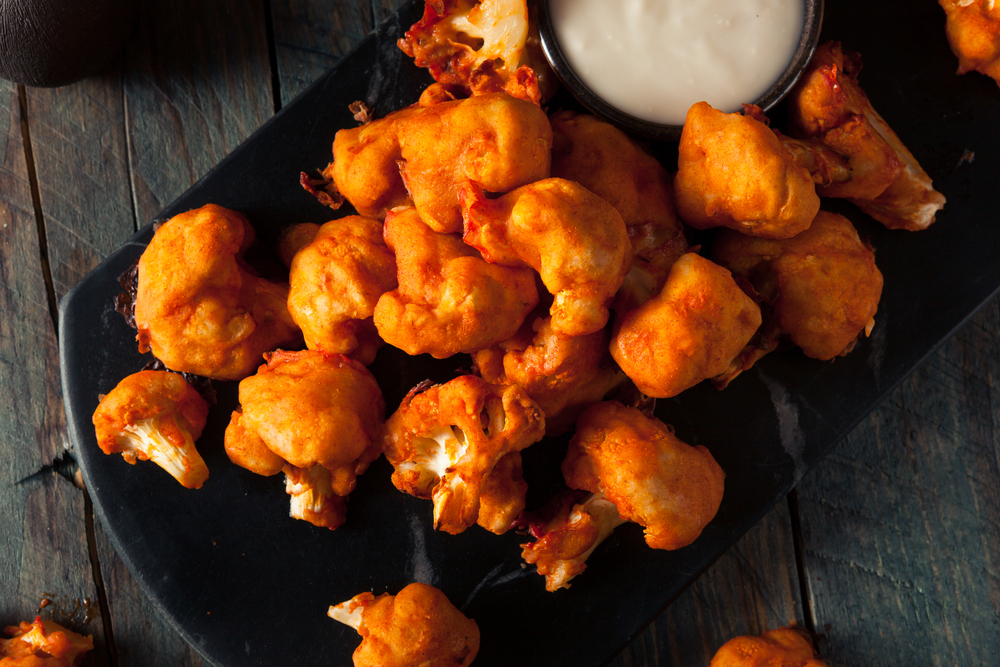 [accordion_item title="Get The Recipe"]
Ingredients:
4 cups cauliflower florets (~1 medium head)
1/2 cup almond flour
1/2 cup almond milk
2 tsp garlic powder
1/2 teaspoon smoked paprika
1/4 teaspoon salt
1/4 teaspoon pepper
1/2 - 3/4 cup buffalo sauce (depending how saucy you want it)
Cut your cauliflower into bite size "wing" pieces. Mix together almond flour, seasonings, and almond milk into a batter and let sit for a few minutes. Toss cauliflower florets in the batter to coat combine cauliflower with all seasonings in a ziplock bag and shake to coat. Shake off the excess batter and place on a baking sheet and bake in a 450 degree oven for 15-20 minutes. Remove from the oven, coat with buffalo sauce, and put back in the oven for 8-10 minutes.
[/accordion_item]
Zucchini Nachos
[accordion_item title="Get The Recipe"]
Ingredients:
6 medium zucchini cleaned and sliced into 1/4" rounds
pinch of sea salt
1 tsp cumin
1 tbsp olive oil
1/2-1 cup cheese
optional toppings: Black beans, Diced Tomatoes, Green Onions, Jalapenos, red onion
Preheat oven to 400 degrees F. In a large bowl combine zucchini, cumin, salt and oil. Stir well. Line a large baking sheet with parchment paper and spread zucchini out in a single layer. Roast 10-15 minutes or until starting to brown and crisp up.
Remove zucchini from oven and sprinkle cheese over.
Return to oven to melt.
Add toppings as desired. Serve warm.
[/accordion_item]
Hummus & Veggie Rollups
[accordion_item title="Get The Recipe"]
-whole wheat or low carb tortillas
-veggies of choice: sliced red bell pepper, avocado, spinach, shredded carrots, shredded cabbage
-Hummus or Laughing Cow cheese wedges
take each tortilla and spread with Hummus or Laughing Cow cheese spread. Add veggies of choice, roll up the tortilla, and cut into bite size pinwheels.
[/accordion_item]
Spinach & Artichoke Dip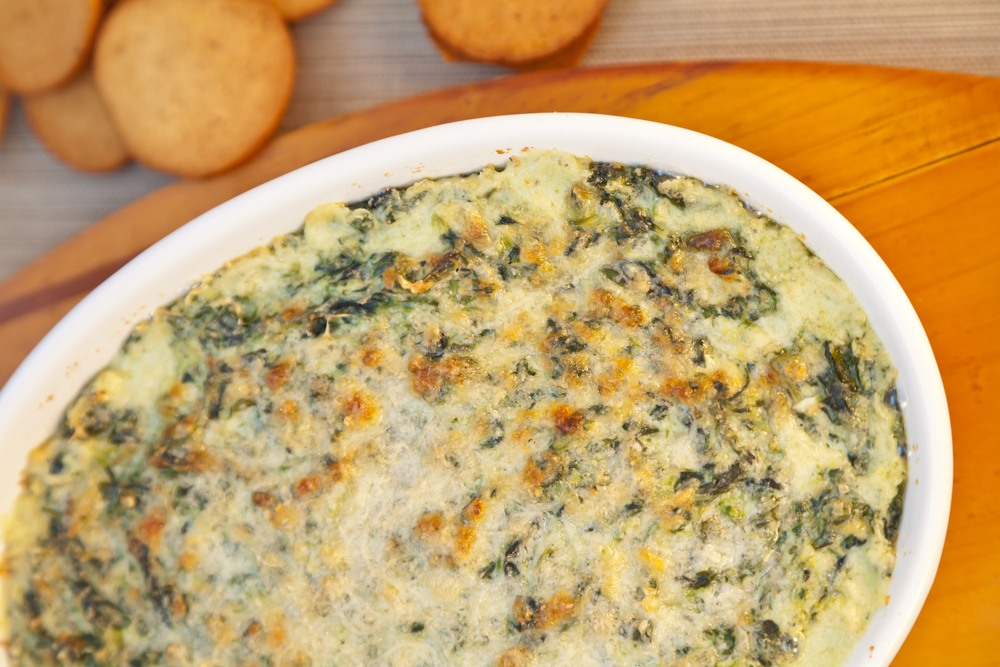 [accordion_item title="Get The Recipe"]
Ingredients:
-12oz bagged frozen spinach, thawed
-1 15oz can canellini beans or white kidney beans
-1 14oz jar of artichoke hearts, rinsed, drained, and chopped
-4 oz reduced fat cream cheese
-1/2 cup grated parm or mozzarella
-1-2 tbsp garlic powder
-1/4 tsp each of salt & pepper
Directions:
Preheat oven to 375. Drain excess water from thawed spinach and place in a large bowl.
Drain and rinse beans and place in a food processor, process until smooth, may need to add 1-2 tbsp water to smooth it out. Add the beans into the bowl with the spinach and add the rest of the ingredients and mix together. Place mixture in a glass baking dish, ramekin, or cast iron skillet and bake 20-30 minutes. Serve warm with above baked tortilla chips or veggies.
[/accordion_item]
Dairy Free Queso Dip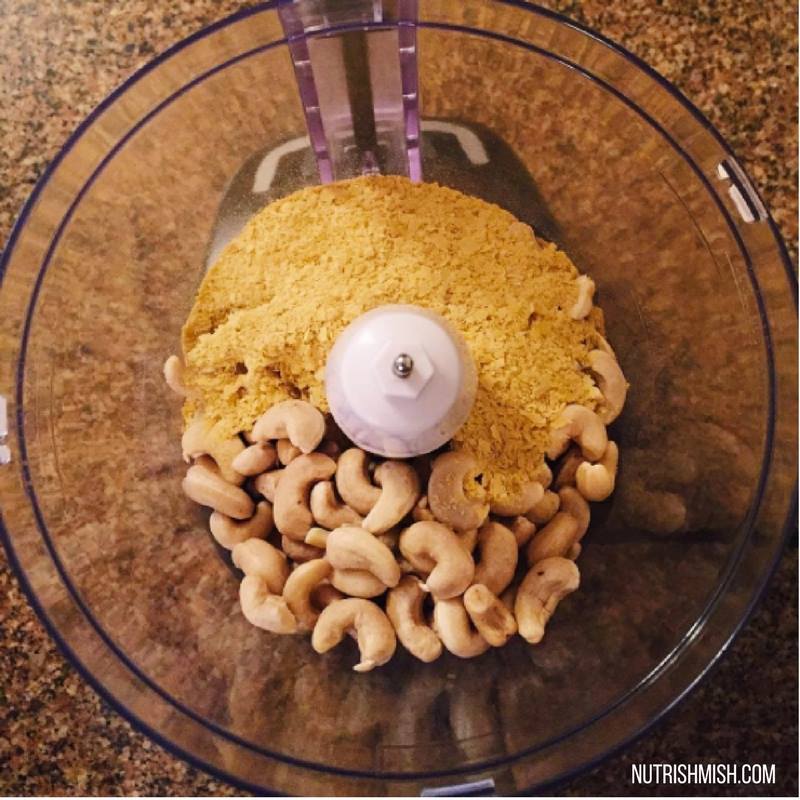 [accordion_item title="Get The Recipe"]
Ingredients:
-1 cup raw cashews*, soaked for up to 4 hours and drained
-1/4 cup water
-1 teaspoon sea salt
-juice of half a lemon
-3 tablespoons nutritional yeast (gives cheesy flavor)
-1/8 teaspoon turmeric
-14 oz. can diced tomatoes with green chiles
Directions:
1. In a high-speed blender/food processor, combine the first six ingredients, plus the liquid from the can of diced tomatoes and green chiles.
2. Blend until you reach a smooth and creamy sauce
3. Stir in green tomatoes and chiles by hand, adjust flavors to taste.
[/accordion_item]
Roasted Brussels Sprouts with Tahini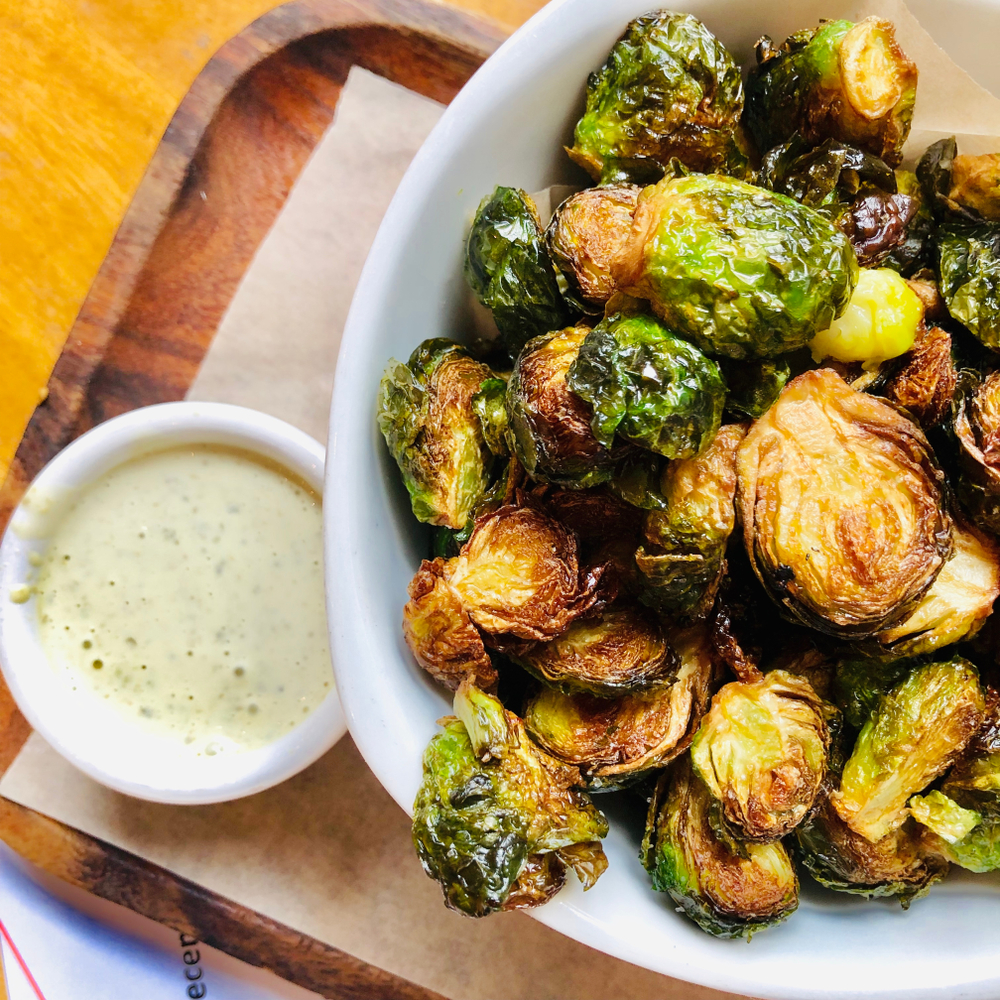 [accordion_item title="Get The Recipe"]
If you love brussels sprouts, this is so easy and delicious.
Simply wash, and half your brussels sprouts, and toss in a bowl with some olive oil (enough to lightly coat), salt, pepper, and lemon juice. Spread on a pan and roast at 375 degrees until the brussels sprouts are brown and crispy. Serve with tahini (sesame butter) for dipping!
[/accordion_item]
Zucchini Fries
[accordion_item title="Get The Recipe"]
Ingredients:
-2-3 zucchinis, cut into strips
-1 cup whole wheat panko
-whole wheat flour, enough to lightly coat zucchini pieces
-garlic powder, salt, and pepper to taste
-1 egg whisked
Preheat your oven to 400 degrees F
Set up your zucchini dipping station: put whole wheat flour in one bowl, panko in another shallow bowl, and whisked egg in another bowl.
Slice zucchini into "fries" and place them on a paper towel to absorb excess watter.
Sprinkle zucchini sticks with whole wheat flour (light coating), then dip each one into the egg, then into the whole wheat panko to coat, and onto a sprayed baking sheet or parchment paper-lined baking sheet.
Bake the sticks at 400 degrees for about 20 minutes, flipping halfway through. Serve with yogurt dip or as is.
[/accordion_item]