One of the more indulgent aspects of holiday dinners, that luckily can be made 100% healthified with just as decadent flavor and texture!
Here are the healthy swaps we made:
Refined sugar  Stevia and coconut sugar
whipping cream extra egg whites
refined grain crust grain free pecan crust
Sweet Potato Pie
Ingredients:
-2 cups mashed sweet potato
-5 tbsp "Pyure" stevia + 1 tsp molasses (or 3/4 cup coconut sugar)
-2 eggs
-2 egg whites
-1 tsp pumpkin pie spice
-1 tsp cinnamon
-2 tbsp melted butter (ideally grass fed) or coconut oil
-just under 2/3 cup milk of choice
*OPTIONAL: pecan crust: 1.5 cup raw pecans, 1/2 tsp salt, 3 tbsp coconut sugar, 1.5 tbsp unsalted melted butter
Directions:
1. Poke holes in sweet potatoes and bake in a 400 degrees F oven until very soft, about 40-50 minutes (depends on size). Let cool to no warmer than room temp
2. Set oven down to 350 degrees F
**For optional crust: Place pecans, salt, and sugar in food processor, pulse until crumbly. Add melted butter and process again. Press mixture into 9-inch pie pan and bake 10-12 minutes.
3. In a large bowl, mash sweet potatoes until smooth with no lumps (can use food processor to puree instead).
4. Add sweetener, and stir until well blended.
5. Beat in eggs and egg whites, one at a time, stirring well after each addition.
6. Stir in pumpkin pie spice, cinnamon, melted butter, and milk until well combined.
7. Pour into 9-inch pie pan or prepared pie crust and bake for 50 minutes, or until filling is set around the edges and soft in the middle.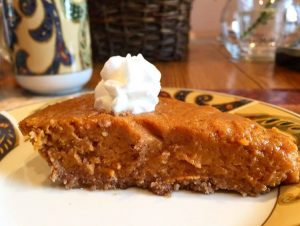 Serves 8
1 slice = 272 calories / 19.5g fat / 20g carb / 5.7g protein