You name the diet…I've tried it! It wasn't until I finally stopped dieting and started eating healthy did I see results! It's amazing what happens to your body when you stop depriving yourself!  I now look at food as fuel. It's all about feeling great, having more energy, (which I never used to have!) and improving overall health. This lifestyle did not happen overnight for me! Through years of trial and error, I have finally found the balance I was searching for. It used to be all or nothing for me but I've learned that sometimes things won't go as planned and that's ok!
6:30 wake up!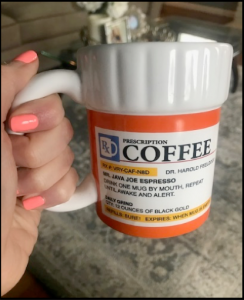 During the week I wake up around 630 to get my day started.
But first coffee…yup I'm an addict, I said it! Admitting it is the first step right? I enjoy coffee so much I even drink decaf…but let's be real, that's not happening in the morning! While I'm brewing my coffee, I'll down a few glasses of water because I know I'll be completely dehydrated if I don't!
Around 7 I'll start getting ready. I always listen to a motivational or educational podcast in the morning that inspires me for the day. This has basically been my form of meditation for a few years now. It gets me out of my own head and puts me in a positive headspace for the day. The school of greatness is a great podcast for anyone looking for some motivation!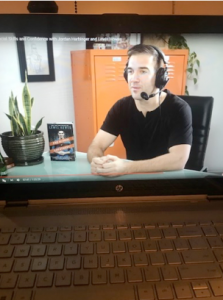 7:45 Breakfast
Breakfast is usually one of two things. Eggs with spinach and avocado and a slice of gluten free bread, or a protein shake with peanut butter and some berries.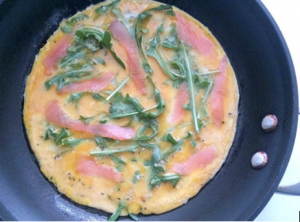 11:00 snack-
This is usually Nuts because I can eat them quickly between clients or I'll have an apple.
Work day starts at 8am and I'm seeing clients until 1pm.
2:00 lunch time!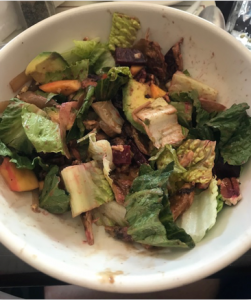 I generally meal prep twice a week. I'll make a big salad, a bunch of roasted veggies, and a few different proteins to choose from. Lunch I usually have grilled chicken on a salad. I throw some grilled sweet onions and a few slices of beets on my salad. It gives it more flavor and spruces it up!
Back to Work!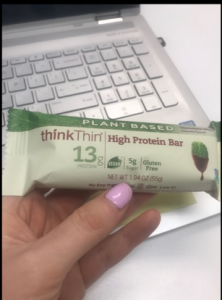 I'm now starting my next shift and seeing clients from 3-7. I'll have a snack around 5. This could be an apple with peanut butter or carrots with hummus but a lot of the time it's a protein bar. If I'm busy this is something I can always make work. I have a major sweet tooth and a protein bar always fills that craving for me!
7:05 Gym time!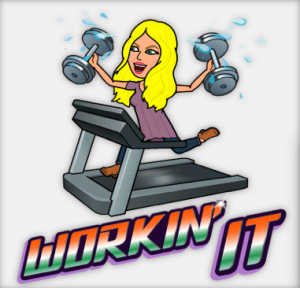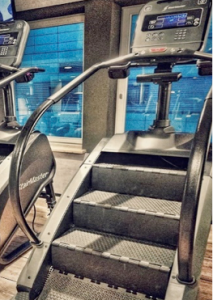 I'll get to the gym at 7:10 and work out for an hour. My workouts change daily. But the stairmaster has become a good friend of mine. No cardio machine makes me sweat quite like that one! I do intervals on it. A minute at a high speed and high intensity and then a minute of low intensity to bring my heart rate back down. 25 minutes of this and you'll be feeling it! I'll usually do about 10 minutes of some body weight exercise's like dips, burpees, and glute bridges. I'll end my workout with 25 minutes of weight training. I love pushing myself and getting stronger! Incorporating weight training into my routine has been a game changer. I do this a few times a week. On the other days I always make sure to get some sort of cardio in, whether it's going for a run, or biking. Just like nutrition, exercise should also be about balance! I used to over train and that did not benefit me! I finally listen to my body!
8:20ishhhh Dinner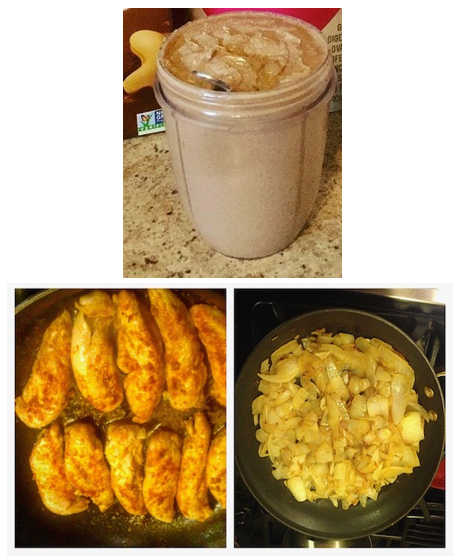 Because I come home pretty late, I always make sure I know what I'm going to have for dinner. I have my staple meals but I like variety, so dinner changes. Depending on my mood, this could be anything from a protein shake, to chicken and veggies. Sometimes I'll even have an omelet again.
Breakfast for dinner …yes please!
If I do a protein shake, I'll make it nice and creamy and this will feel like I'm eating
"ice cream." I put frozen cauliflower rice or squash in it to thicken it up and no you don't even taste it in the shake! I also add a few frozen cubes of coconut for a healthy fat plus this will make it super super super creamy!! Healthy "ice cream" doesn't get better than that!
1130 Bed time…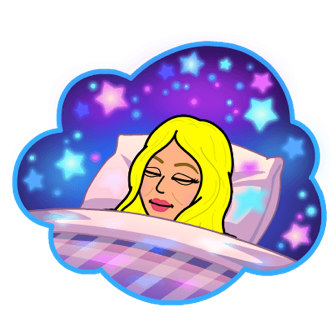 This was always a struggle for me. I've always been a night owl but I've gotten much better! I now make sure I'm in bed by 11. I usually fall asleep somewhere between 1130 and 12.  Any later than that and I am not a happy camper! I've realized how important sleep is for me.  If I'm sleep deprived, there is no way I'll have the energy I need to live my healthy lifestyle and help others learn to live theirs as well!
Changing your habits will not happen overnight! Small changes weekly will make your results last forever! Anytime I've ever tried to change everything at once, I've failed. Now that I have accumulated good habits over time, I could never imagine going back to my old ways! Living a healthy lifestyle will always be a priority for me because I never want to feel the way I used to. If you're not where you want to be, don't beat yourself up. Accept and appreciate where you're at, while working to get better! It's a forever journey and what has worked for me in the past may not work for me in the future. That's ok though, because the end of one journey is the beginning of a new one!