In the spirit of "back to school", let's talk breakfast. A healthy breakfast can be hard to come by when you're in a rush in the morning. It might be tempting to just get a bagel or an egg sandwich from the nearest deli or coffee shop. Or you might grab something that doesn't quite hold you over and is full of sugar, like cereal or a granola bar.
We're sharing with you the BEST and healthiest grab and go breakfasts that you can have available right in your own home (that aren't boring), so that your morning isn't fueled by coffee and frosted flakes.
1. Breakfast Cookies!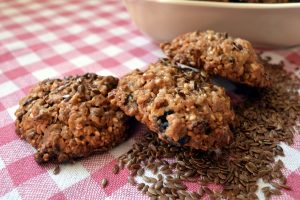 Cookies for breakfast? Yes. Just not in the well-known breakfast cereal form 😉 These are the ultimate breakfast cookies, packed with whole grains, fruits, veggie, protein, and flavor! Grab a couple of these in the morning and you are good to go! Don't be afraid to customize with different flavors.
Ingredients:
1 cup rolled oats
1 cup oat flour
1/2 teaspoon baking powder
½ teaspoon baking soda
1 teaspoon ground cinnamon
1/4 tsp nutmeg
¼ teaspoon salt
1/4 cup melted coconut oil
1/4 cup peanut butter or almond butter
1 mashed banana
1 egg (or sub 1 flax egg)
1 tsp pure vanilla extract
1/2 cup grated apple (optional)
1/2 cup grated carrot (optional)
Stevia to desired sweetness
Directions:
-In a mixing bowl, mash up your banana and then mix in the remaining wet ingredients
-In a separate bowl, combine all your dry ingredients.
-Combine the wet mixture with the dry ingredient bowl and mix with a wooden spoon or spatula until well combined.
-Fold in apple, carrot, or other desired mix ins (raisins, blueberries, flax seeds, etc) until equally combined.
-Line a large cookie sheet with parchment paper and spoon about 2 rounded tablespoons of dough onto the cookie sheet for each cookie.
-Bake at 350 degrees F for about 25 minutes, until bottoms are golden brown
-Store in an airtight container in the fridge for up to 5 days.
2. Overnight Oats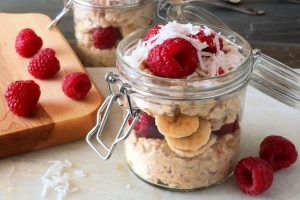 If "quick oats" aren't enough to sell you, overnight oats will. Overnight oats are prepared the night before, and all you have to do in the morning is just grab and go (don't forget a spoon).
How to do it: Simply put 1/2 cup of oats in a mason jar, add enough almond/cashew milk to cover the oats. Mix in desired flavors/mix ins: chia seeds, protein powder, yogurt, mashed banana, peanut butter, almond butter, etc. Mix it up and throw it into the fridge before you go to bed at night. Add fresh fruit in the morning if desired and off you go!
3. Egg muffins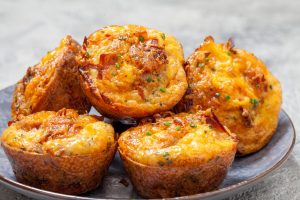 Prepped ahead of time, these egg muffins are a great way to get in a protein based breakfast.
How to do it: Simply spray down a muffin tin and fill about halfway with desired mix ins (veggies chopped bacon/ham). Whisk together about 1.5 cups of egg, egg whites, or a mixture of the two and pour into each muffin tin until about 3/4  full. Sprinkle with cheese if desired. Bake in an oven heated to 375 degrees for around 15 minutes or until set.
In the morning, just pop a couple out of the fridge and go. Maybe pair with a piece of fruit or a handful of nuts for extra energy.
4. Freezer breakfast burritos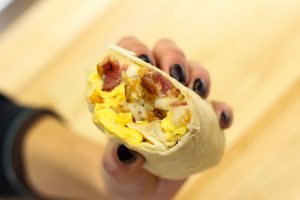 Need a hearty egg sandwich in the morning? No problem. These breakfast burritos can be made ahead and frozen, to be easily heated up in the morning.
How to do it:
-Whisk together 1.5 cups of egg, egg whites, or a mixture of the two
-sautee veggies of choice for a few minutes, then mix eggs in and scramble, adding in taco seasoning to taste (cumin, chili powder, garlic, salt, pepper, cayenne).
-add in cooked breakfast meat if desired.
-lay out a sheet of plastic or tin foil, lay a whole wheat tortilla on it and spoon your filling into the middle, roll up and wrap in the plastic or foil.
-Store in the freezer for a grab and go breakfast that can be defrosted over night or heated quickly in the morning.
5. Protein toaster waffles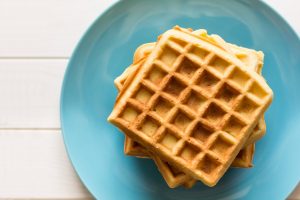 Leggo of that Eggo, these homemade waffles are packed with whole grains and protein to keep you full of energy all morning. Prep a big batch ahead of time to store in the freezer for busy mornings.
Ingredients:
2 cups oat flour
2 Tbsp ground flax
3/4 cup whey protein
1 tsp cinnamon
1 tsp baking powder
1 tsp vanilla extract
2 cups unsweetened almond milk or water
2 eggs or 4 egg whites
Preheat waffle iron and spray with nonstick spray
In 1 bowl mix together oat flour, whey protein, flax, baking powder & cinnamon. Add in the wet ingredients and mix until combined.
Allow batter to sit for 5 minutes to thicken.
Cook on waffle maker until golden brown (about 5 minutes).
Store in freezer bags. Simply throw them into the toaster to heat in the morning when you wake up.
6. Protein Shake
A protein packed breakfast is important for sustained energy and satiation throughout the day. For quick access in the morning, either make your protein shake the night before and store in the fridge, or put all of your smoothie ingredients in a bag, then just throw it into a blender with liquid of choice and NM protein powder in the morning and you're good to go.
No time to use the blender? No problem. Add 1 scoop of NM Protein to milk of choice into a shaker bottle / covered portable cup and shake thoroughly !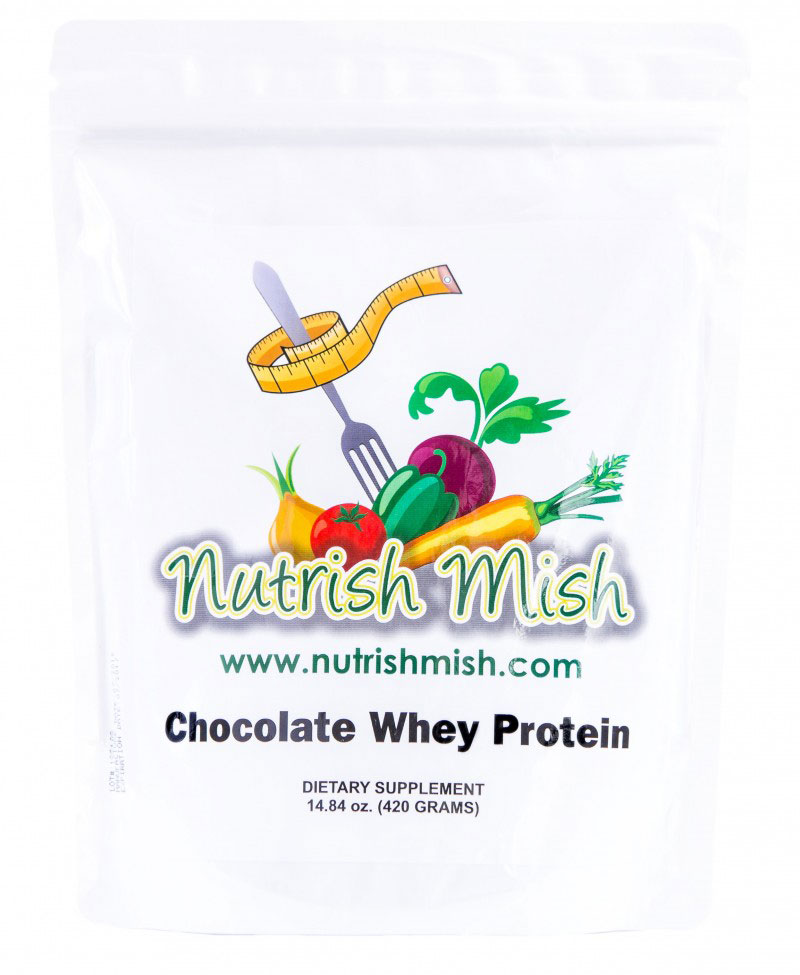 No matter how little time you have in the morning, STOP making excuses and START prepping ahead!