Need more on-the-go meal ideas, or just looking for some new ways to enjoy your meals? Mason jars are fun, convenient, and portable and you can take any meal on the go with one of these! Here are our favorite mason jar recipes for breakfast, lunch/dinner, and snack time!
Breakfast:
Overnight oats: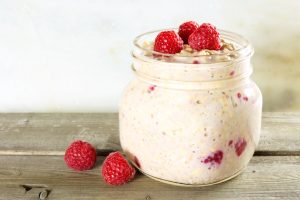 In a mason jar, combine:
-1/2 cup rolled oats
-1/4 cup greek yogurt (flavor of choice)
-1/2 scoop protein powder of choice (chocolate or vanilla)
-1 tbsp peanut butter, almond butter, or chia seeds
-1/4-1/2 cup unsweetened almond or cashew milk
mix it up well, seal, and refrigerate overnight. In the morning, just grab and go! Don't forget a spoon, too!
Fruity Chia Pudding: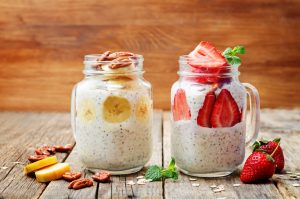 In a mason jar, combine:
-3/4 cup unsweetened almond or cashew milk
-1 scoop NM Vanilla Protein
-1.5 tbsp chia seeds
-stevia to taste
-Fruit of choice, optional drizzle of almond butter
Refrigerate overnight (or for at least 30 minutes). Once set, top with desired fruit and optional drizzle of almond butter and enjoy!!
Lunch:
Rainbow veggie Salad: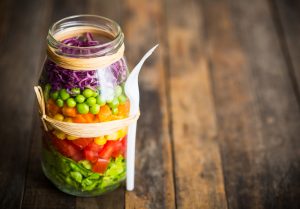 From the bottom up, stack your veggies in rainbow order, using edamame for your green to get protein into this salad. Seal up the mason jar and pack your favorite dressing to throw over the top. Not a fan of salads? Make it a burrito bowl in a jar by stacking rice & beans with veggies and protein of choice!
After adding dressing, shake the jar, then empty jar onto a paper plate and enjoy!
Salmon Avocado Jar Salad: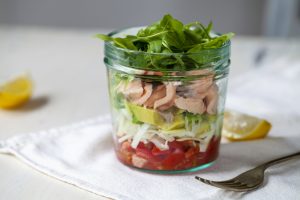 you will need:
-canned salmon
-1/4 avocado, diced
-sprinkle of grated mozzarella or parmesan
-grape tomatoes, diced
-handful of spinach
Layer your tomatoes on the bottom of the jar, followed by cheese (opt), avocado, salmon, and spinach. Come lunch time, empty your salad onto a paper plate and eat!
Snack:
veggie dip jar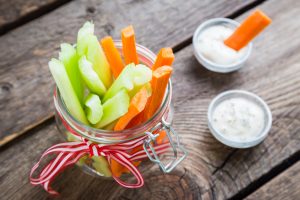 Take a tall mason jar, place carrot & celery sticks, and bell pepper strips inside the jar. Pack a travel size pack of hummus or yogurt ranch to dip the veggies in.
yogurt parfait: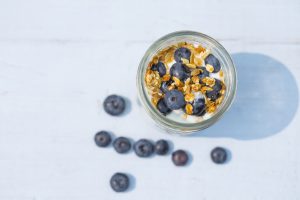 Line bottom of your mason jar with berries of choice.
Place your favorite yogurt into your mason jar on top of the first layer of berries. Layer more berries on top of the yogurt with a sprinkling of granola (optional)