It's the 21st century...we've seen cauliflower become pizza, gnocchi, breadsticks, and land on the moon. It's about right to say that vegetables are no longer boring. While the SuperBowl is a fine time to indulge and lay back and not worry so much about what you are eating, it can help to have some healthified veggie-packed apps in the mix to pick on to have a healthy super bowl, and feel great on Monday!
Cauliflower buffalo "wings"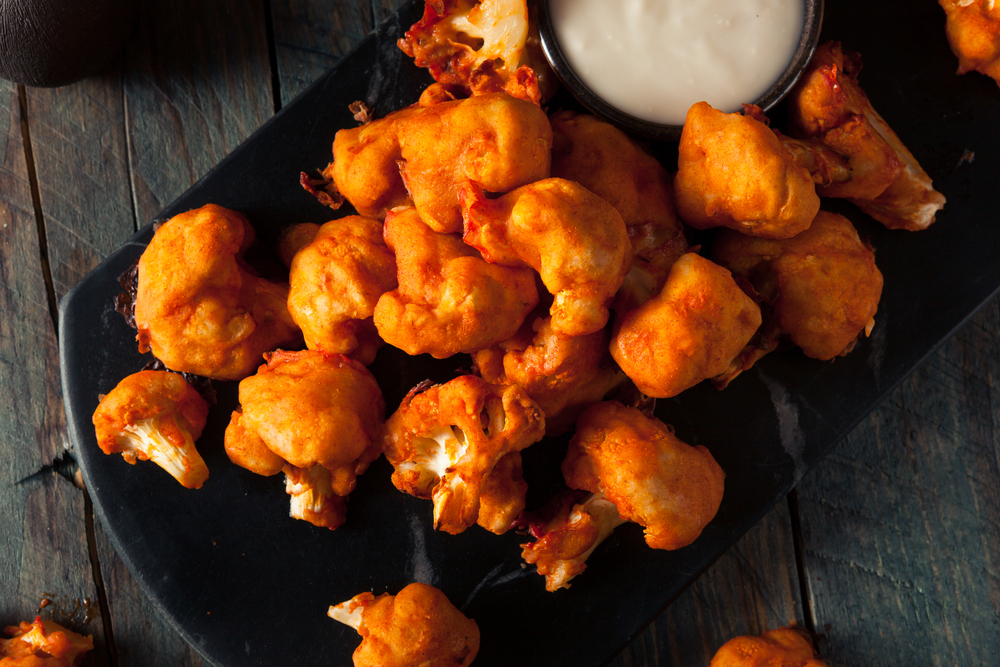 You'll be blown away by how addicting these things are! All the fun is in the sauce, after all.
4 cups cauliflower florets (~1 medium head)
1/2 cup almond flour
1/2 cup almond milk
2 tsp garlic powder
1/2 teaspoon smoked paprika
1/4 teaspoon salt
1/4 teaspoon pepper
1/2 - 3/4 cup buffalo sauce (depending how saucy you want it)
Cut your cauliflower into bite size "wing" pieces. Mix together almond flour, seasonings, and almond milk into a batter and let sit for a few minutes. Toss cauliflower florets in the batter to coat combine cauliflower with all seasonings in a ziplock bag and shake to coat. Shake off the excess batter and place on a baking sheet and bake in a 450 degree oven for 15-20 minutes. Remove from the oven, coat with buffalo sauce, and put back in the oven for 8-10 minutes.
Cauliflower Dip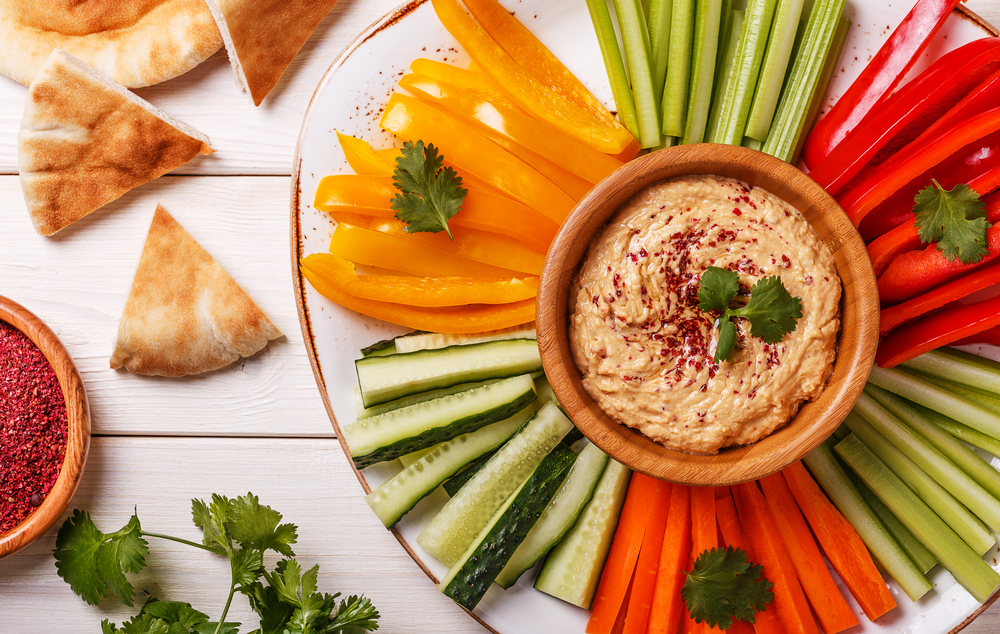 a veggie-packed twist on hummus, this dip is just as creamy and delicious and you can add tons of different seasonings and spices to your liking.
1 head steamed cauliflower
 2 T tahini
2 T olive oil or avocado oil
1 garlic clove
Dash of sea salt and black pepper
Seasonings of choice to taste! Try cumin, paprika, garlic powder, turmeric, etc.
other fun optional add-ins: carmelized onions, spinach, lemon juice, cucumber, roasted red pepper
Combine all ingredients in a food processor and blend til smooth!
Roasted Brussels Sprouts with Tahini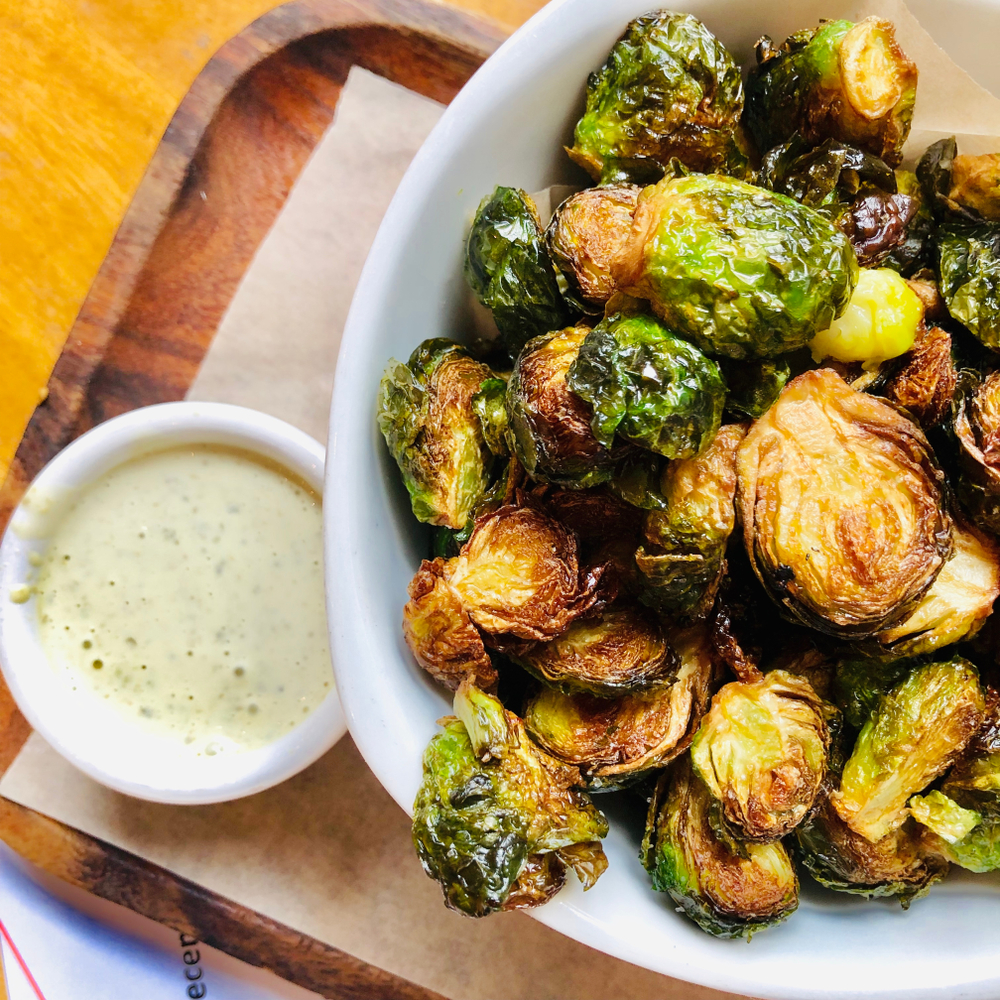 If you love brussels sprouts, this is so easy and delicious. Simply wash, and half your brussels sprouts, and toss in a bowl with some olive oil (enough to lightly coat), salt, pepper, and lemon juice. Spread on a pan and roast at 375 degrees until the brussels sprouts are brown and crispy. Serve with tahini sauce for dipping!
Zucchini Nachos
How fun! Who doesn't love loaded nachos? These are a super fun way to get veggies in and you can top them however you want!
Serves 3-4:
6

 

medium zucchini

 

cleaned and sliced into 1/4" rounds

pinch of sea salt
1 tsp cumin

1 tbsp olive oil

1/2-1

 

cup

 

cheese

optional toppings: Black beans

, Diced Tomatoes, Green Onions, Jalapenos, red onion
Preheat oven to 400 degrees F. In a large bowl combine zucchini, cumin, salt and oil. Stir well. Line a large baking sheet with parchment paper and spread zucchini out in a single layer. Roast 10-15 minutes or until starting to brown and crisp up.

Remove zucchini from oven and sprinkle cheese over.

Return to oven to melt.

Add toppings as desired. Serve warm.
Baked Zucchini Fries
Zucchini fries are super addicting and this baked version makes them a fraction of calories as traditional fried zucchini.
You will need:
-zucchini, cut into strips
-whole wheat panko
-whole wheat flour
-garlic powder, salt, and pepper to taste
-1 egg whisked
Sprinkle zucchini sticks with whole wheat flour (light coating), then dip each one into the egg, then into the whole wheat panko to coat, and onto a sprayed baking sheet. Bake the sticks at 400 degrees for about 20 minutes, flipping halfway through. Serve with yogurt dip or as is.
Stuffed Sweet Potatoes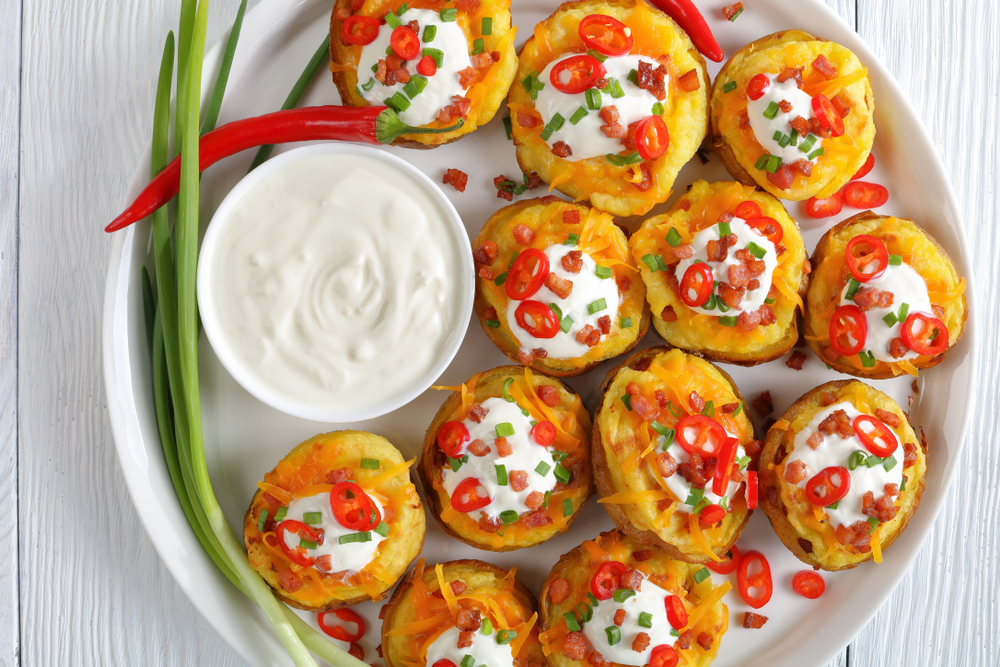 Potatoes are technically a starch, but they still fit the veggie theme. Get a bag of those mini sweet potatoes, bake them in the oven for 40-45 minutes at 375 degrees until soft. Top with either bean chili or cheese, greek yogurt, green onions, bell pepper, and/or turkey bacon bits!