Football season is just about gracing us with its presence. And with football comes buffalo wings. Instead of using the side of celery to justify your indulgence in fried wings, you can make super healthy appetizers and dishes using buffalo sauce that will satisfy your buffalo fix without sabotaging your health goals.....
1. Make Buffalo Cauliflower bites
These are a crowd pleasing appetizer that makes a fun veggie alternative to buffalo wings. Veggies are only boring if you make them boring! 
To make a big batch for a crowd, you will need:
6 cups of fresh cauliflower florets

2 teaspoons garlic powder

a pinch of salt

a pinch of pepper

¾ cup Buffalo Sauce
Preheat the oven to 450F and spray a baking sheet with olive oil.

In a small bowl, mix the garlic powder, salt, pepper, and buffalo sauce.

Transfer the cauliflower into a large gallon-sized bag and pour the sauce mixture into the bag. Shake until the cauliflower florets are fully coated in sauce.

Spread evenly on baking sheet and bake for 20 minutes.
2. Make Buffalo Chicken stuffed Avocado Halves
Spicy buffalo sauce + creamy fresh avocado = a match made in heaven. Simply take half of an avocado, mash it up and add in 3oz diced or shredded cooked chicken. Add in buffalo sauce, salt, & pepper to taste and mix all until well combined. Stuff it back into the skin of the avocado half, using it as your "bowl", and voila!
3. Mix into meatballs
Take your favorite meatball recipe, preferably one using ground chicken (or turkey), and just add in a few tablespoons of buffalo sauce! Makes an awesome "appetizer" type food that everyone will love.
4. Add into homemade hummus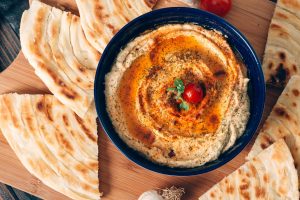 If you've never made your own hummus, it's super easy! All you need is a can of chickpeas, 1 lemon juiced, 1/4 cup of tahini, and 1-2 tbsp of olive oil, and a food processor to blend it up in! Add Salt and buffalo sauce to taste and voila! If you need to thin it out add in a couple tablespoons of water. Use as a dip for veggies, pita, or your favorite healthy crackers.
5. Buffalo Chickpea Salad
In a bowl, combine 1 15oz can chickpeas, 1/4 cup crumbled gorgonzola cheese, and 1/4 cup buffalo sauce. Use a potato masher (or other large utensil) to mash it up into a chunky mixture. Optionally add in scallions, chopped carrots, chopped celery, and/or chopped bell peppers. This mixture is awesome rolled up in a tortilla or over lettuce. 
Choose your Buffalo Sauce wisely
Let's talk about choosing the right type of buffalo sauce. There are a couple of things you want to be on the look out for.
Check the sodium: many buffalo sauces can be a little ridiculous on the salt. Many sauces will have almost 500mg for just ONE TABLESPOON. Depending on how much you are consuming in one sitting, it can add up!
Check ingredients: Make sure you are getting a sauce without tons of additives. Look for as little ingredients as possible.
Check fat/calories: Some buffalo sauces are simply flavored hot sauces, yielding hardly any calories at all (about 15 calories per tbsp). Other buffalo sauces add butter and/or oil to enhance flavor or taste. This really racks up the fat, and in turn, calories.