Happy Fall! In the world of Nutrish Mish, Fall comes with fun seasonal produce and food, most notably pumpkin and of course pumpkin spice! Pumpkin is a super nutritious food to incorporate into your autumn recipes, so keep scrolling for some of our favorite recipes as well as favorite pumpkin spice products in 2021!
#1. Homemade Pumpkin Spice Latte
You can make your own PSL at home for a fraction of the cost, and a fraction of the sugar content found in traditional Pumpkin Spice Lattes. And it's VERY easy to make!
Ingredients:
1 cup brewed coffee
3/4 cup unsweetened vanilla almond milk
3 tablespoons pumpkin puree
1 teaspoon pumpkin pie spice
1 teaspoon vanilla extract
Cinnamon
Directions:
In a small sauce pan mix together milk and pumpkin and heat for 2 minutes
Take off heat
Mix in pumpkin pie spice and vanilla
Put mixture into blender/Ninja or Magic Bullet and blend until foamy
Add mixture to coffee and top with cinnamon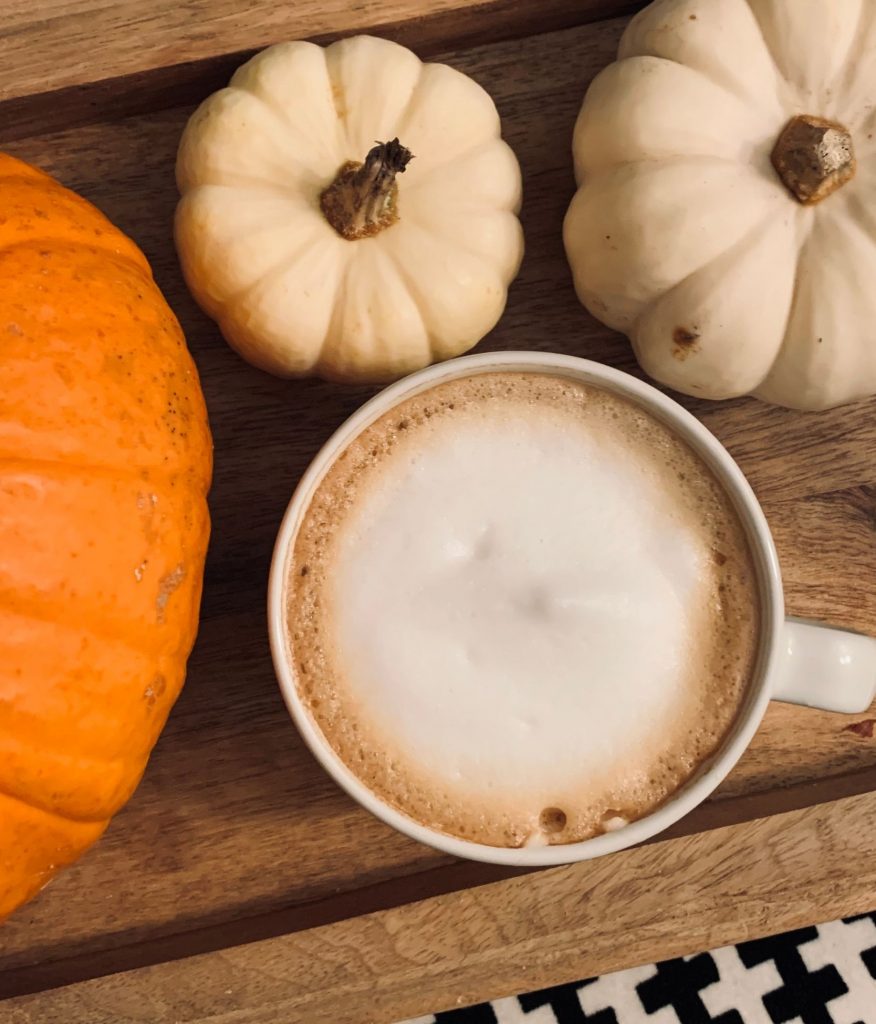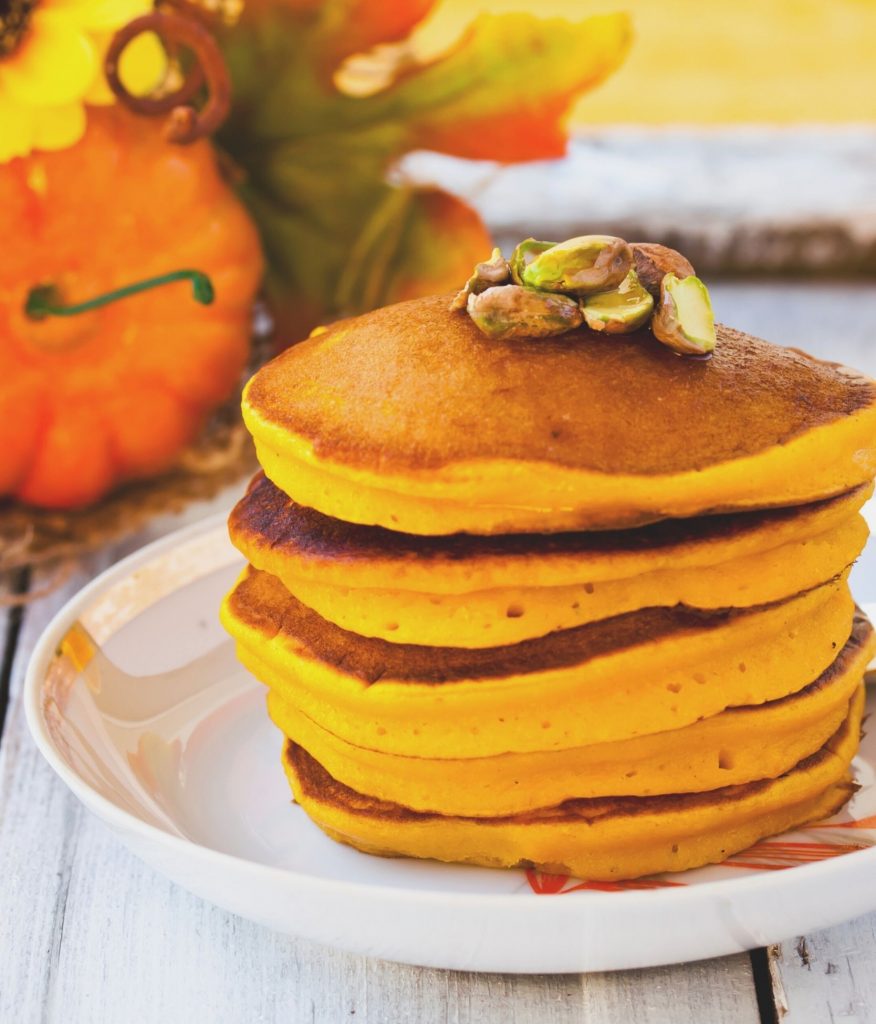 Autumn brunch? Heck yes. Take your favorite pancake or waffle recipe/mix and add in a little bit of pumpkin puree and pumpkin pie spice! Or use this easy recipe for pumpkin pancakes:
Ingredients:
1 cup rolled oats
1/2 cup pumpkin puree
1 egg
1/2 cup milk of choice (add more if too thick)
1 tsp baking powder
1 tsp cinnamon + 1 tsp pumpkin pie spice
optional: 1 scoop vanilla protein powder
Directions:
blend all ingredients in a blender.
Let mixture sit for a few minutes to thicken while heating a skillet over medium heat.
coat pan with butter or coconut oil
pour batter onto pan in desired pancake size, cook for 2 minutes on one side, flip when starts to puff up on edges, and cook on the other side until each side is golden brown.
#3. Pumpkin Apple Muffins
These apple pumpkin muffins taste like a fall harvest! Great for breakfast with some almond butter or a mid-day treat!
Ingredients:
2 cups Kodiak Cakes All Purpose Baking Mix (Can use Kodiak Cakes Protein Pancake Mix too!)
1/2 tsp baking soda
1 tsp baking powder
1 tbsp cinnamon
1/2 tsp salt
2 cups shredded apple (about 2-3 apples depending on their size)
1/4 cup Pyure Stevia
2 eggs
1 cup pumpkin puree
2 tsp vanilla extract
optional: 1 tsp maple extract
Directions:
Preheat oven to 350F, line a muffin tin with muffin liners
In a large bowl, whisk dry ingredients together, add in apple and stir to combine
In a medium bowl, whisk wet ingredients together.
Add wet ingredients into the dry ingredients and stir until just combined
Divide batter  evenly into muffin tin (makes 10-12)
Bake 15-18 minutes, or until slightly browned
Let cool 10 minutes before removing from muffin tin and transferring to cooling rack
MUST store in the refrigerator. They will keep for about a week. Freeze and they are good for a few months.
Makes about 10-12 muffins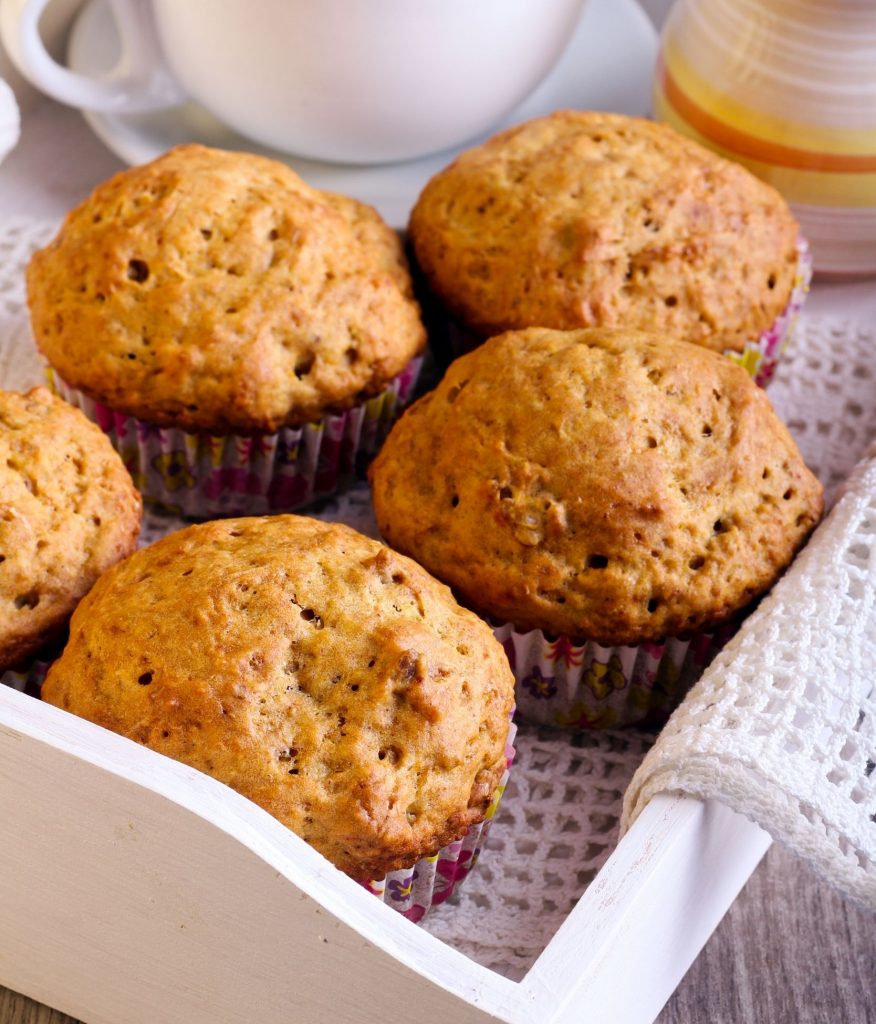 #4. Kite Hill Pumpkin Pie Cream Cheese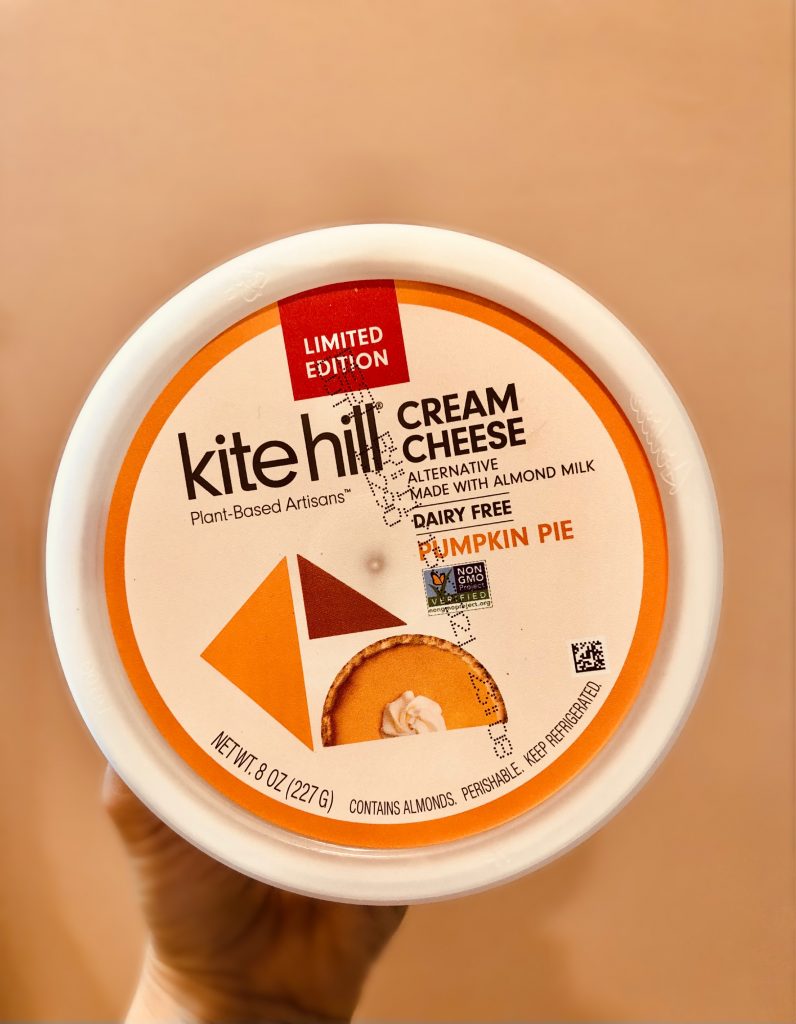 WOW, this new Pumpkin Pie DAIRY FREE Cream Cheese by Kite Hill is out of this world!! Spread onto toast, bagels, or homemade pumpkin bread / pumpkin apple muffins (recipe above). The consistency is just like traditional cream cheese and the flavor is sweet and pumpkin spicy with plenty of cinnamon!
Find it at Whole Foods Market!
#5. Seasonal Protein Bars
If protein bars are your thing because they come in handy for you, why not switch it up for some seasonal flavors? We can confirm that the Pumpkin Pie Perfect Bar is 10/10 AMAZING!!!
The Pumpkin Rx bars are also a delicious snack. The date-based bars are perfect when combined with warming seasonal pumpkin spices. It's like enjoying a pumpkin spice pastry in bar format.
You can find these seasonal bars at any Whole Foods and Target!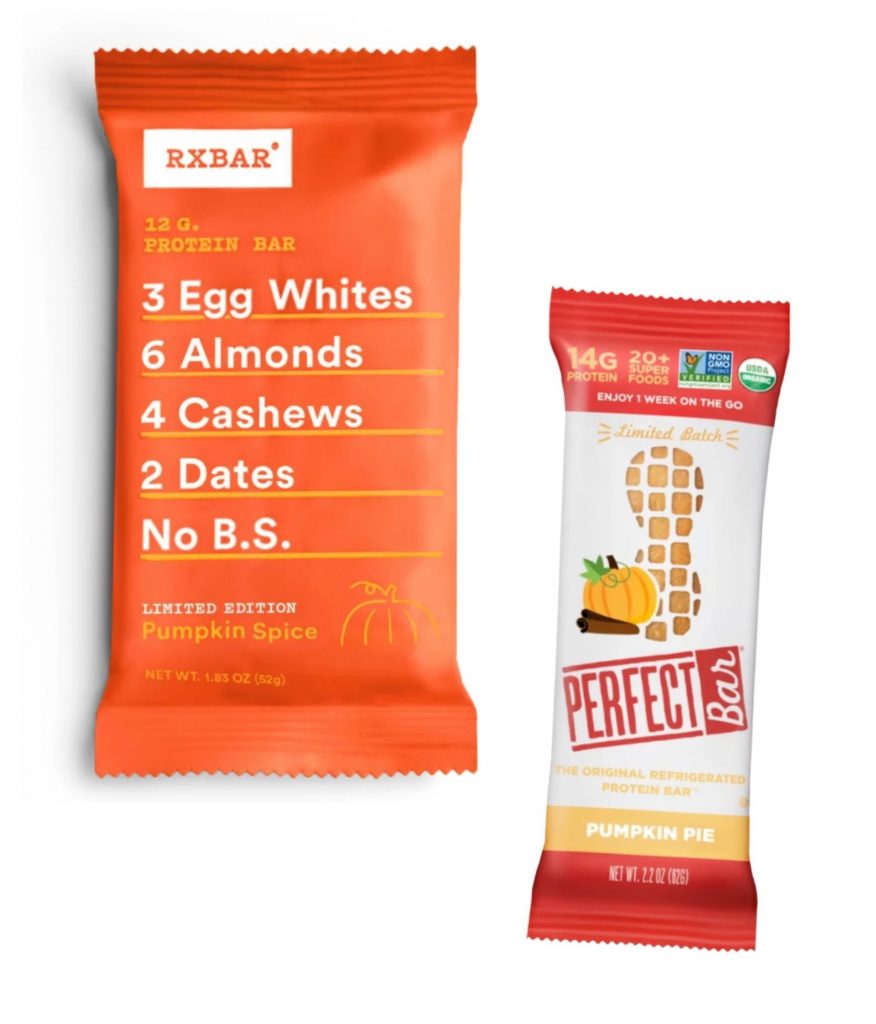 #6. Homemade Pumpkin Spice Granola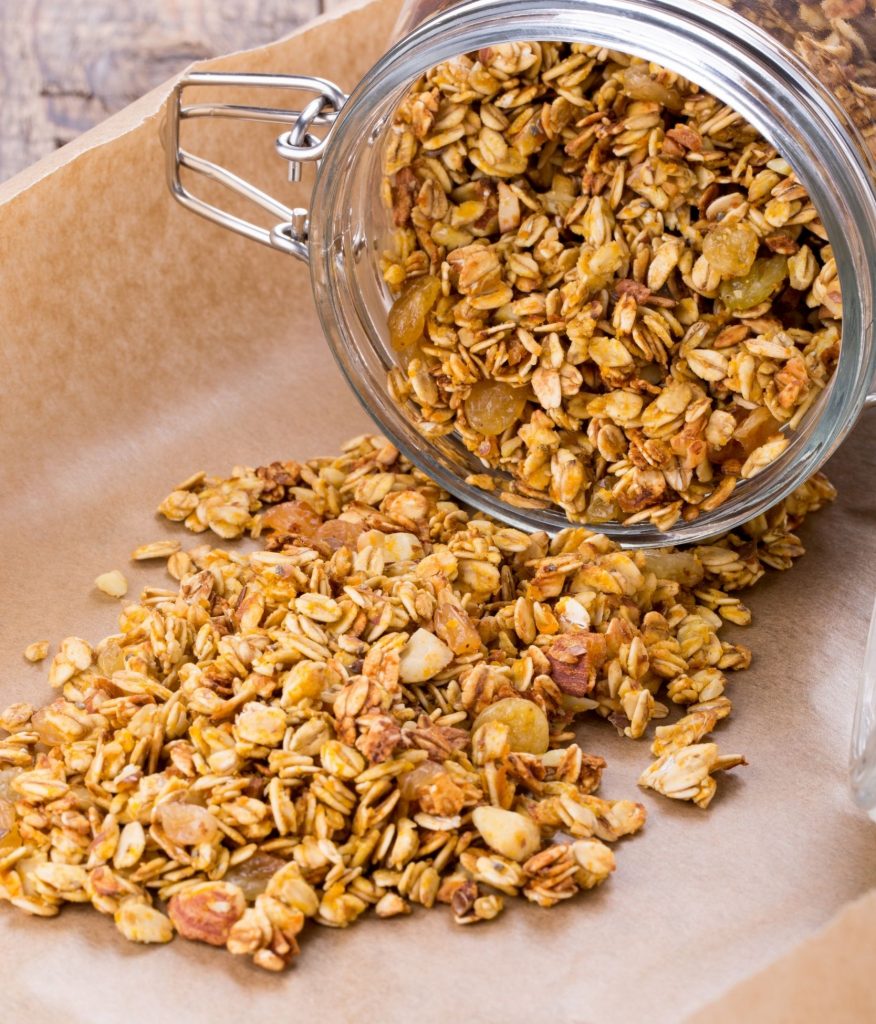 If you've never made your own granola..you're missing out! Tastes so much better than store bought, careful, it's addicting!

Ingredients
2

 

cups

 

old fashioned oats

1

 

cup

 

raw pumpkin seeds

1

 

cup raw 

sliced almonds

¼

 

cup

 

pure maple syrup

1/3

 

cup

 canned pumpkin puree

½

 

tsp

 vanilla extract

1½

 

tsp

 

pumpkin pie spice

¼

 

cup melted coconut oil or avocado oil

½

 

tsp

 sea 

salt
Instructions
Preheat the oven to 300°F. Prepare a large sheet pan with a silicone mat or parchment paper.

Mix the oats, pumpkin seeds, and almonds in a large bowl. In a separate bowl, whisk the pumpkin puree, maple syrup, vanilla extract, spices, and oil until smooth. Add to the oat mix and stir until coated.

Spread the mixture onto the sheet pan in a single layer, making multiple batches if necessary to avoid overlapping of mixture.

Bake 30-35 minutes until golden brown, moving granola around after 20 minutes to make sure it doesn't burn

Let cool completely on the pan. Store the pumpkin spice granola in a sealed jar for 2-3 weeks in a dark, cool space.
#7. Hu Pumpkin Spice Dark Chocolate Bar
WE LOVE HU, so we just knew this one was going to be amazing.
Hu Kitchen makes delicious food that is free of refined sugars, and any mystery ingredients. We love their dark chocolate for its rich cacao base (high in antioxidants) and light natural sweetness from unrefined coconut sugar. The notes of pumpkin spice in this seasonal chocolate bar takes it to a whole new level. DELICIOUS!!
You can order all Hu products at https://hukitchen.com or find this bar and other products at Whole Foods!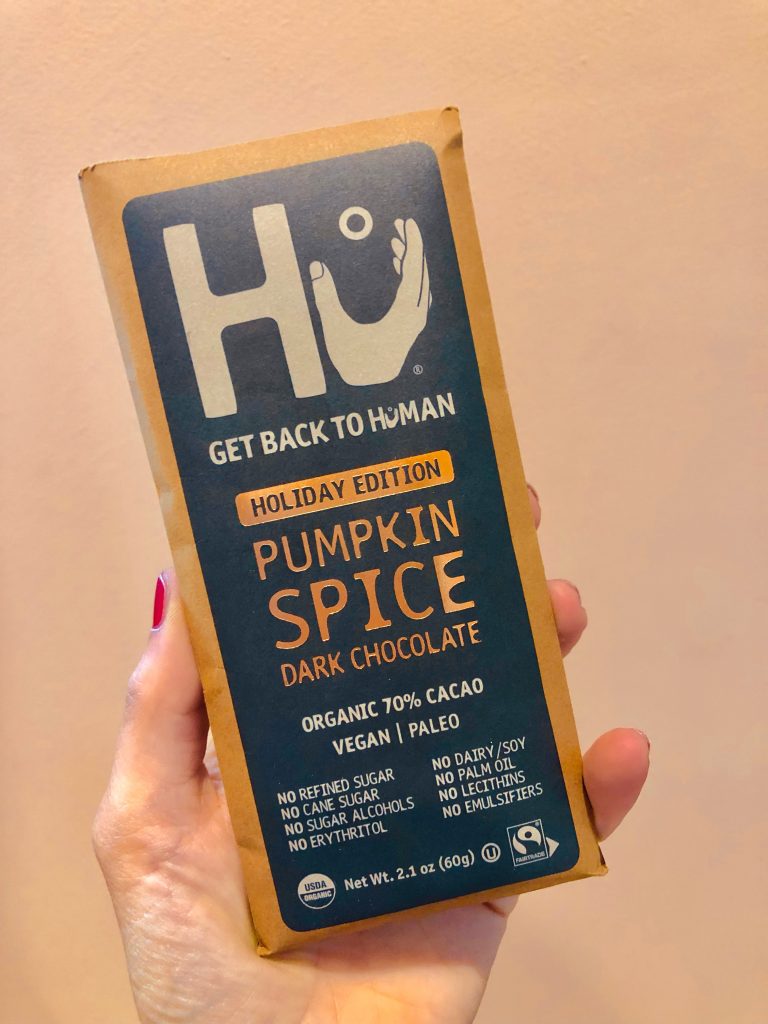 #8. Creamy Pumpkin Spice Coffee with
Nut Pods Creamer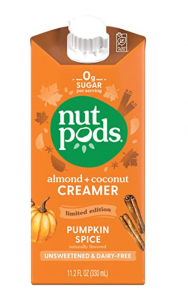 We can't rave enough about Nut Pods!! It's difficult these days to find a flavored coffee creamer that ticks all our boxes: minimal ingredients, no artificial sweeteners, actually tastes good. Nut Pods does it all. It does not have sugar in it, so you can add your own sweetener of choice (sugar in the raw, stevia, etc) to sweeten to your liking. This gets a 10/10 from us for nutrition and taste !
Find it at Whole Foods Market or bulk on Amazon!